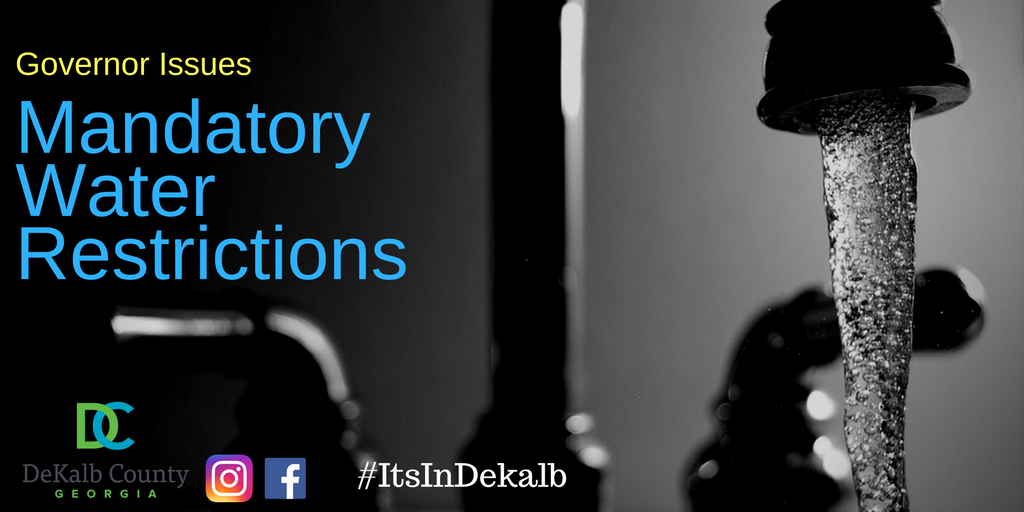 State of Georgia Announces Level 2 Drought Restrictions
DeKalb County residents move to odd/even schedule
DECATUR, Ga. – The Georgia Environmental Protection Division has announced a Level 2 drought response in 52 counties including DeKalb.
Under the Level 2 drought, outdoor irrigation for purposes of planting, growing, managing, or maintaining ground cover, trees, shrubs, or other plants shall be limited to two days a week on an odd-even schedule.
Even numbered addresses and sites without numbered addresses may irrigate on Wednesdays and Saturdays before 10 a.m. and after 4 p.m.
Odd numbered addresses may irrigate on Thursdays and Sundays before 10 a.m. and after 4 p.m.
No outdoor watering is allowed between 10 a.m. and 4 p.m.
The following outdoor water uses are prohibited:
Washing hard surfaces such as streets, gutters, sidewalks and driveways, except when necessary for public health and safety.
Using water for ornamental purposes, such as fountains, reflecting pools and waterfalls.
Use of fire hydrants, except for the purposes of firefighting, public health, safety or flushing.
Washing vehicles, such as cars, boats, trailers, motorbikes, airplanes or golf carts.
Non-commercial washing, or pressure washing, of buildings or structures, except for immediate fire protection.
Charity or non-commercial fundraiser car washes.
The following watering practices are still allowed at this time:
Commercial agricultural operations as defined in Code Section 1-3-3.
Capture and reuse of cooling system condensate or stormwater in compliance with applicable local ordinances and state guidelines.
Reuse of gray water in compliance with Code Section 31-3-5.2 and applicable local board of health regulations adopted pursuant thereto.
Use of reclaimed wastewater by a designated user from a system permitted by the Environmental Protection Division of the department to provide reclaimed waste water.
Irrigation of personal food gardens.
Irrigation of new and replanted plant, seed or turf in landscapes, golf courses, or sports turf fields during installation and for a period of 30 days immediately following the date of installation.
Drip irrigation or irrigation using soaker hoses.
Hand-watering with a hose with automatic cutoff or handheld container.
Use of water withdrawn from private water wells or surface water by an owner or operator of property if such well or surface water is on said property.
Irrigation of horticultural crops held for sale, resale or installation.
Irrigation of athletic fields, golf courses or public turf grass recreational areas.
Installation, maintenance or calibration of irrigation systems.
Hydroseeding.
For more information on the latest drought status, visit www.northgeorgiawater.org/current-water-stats/drought-status/.
For conservation tips, a brochure and videos, visit www.mydropcounts.org.
###