Commercial garbage service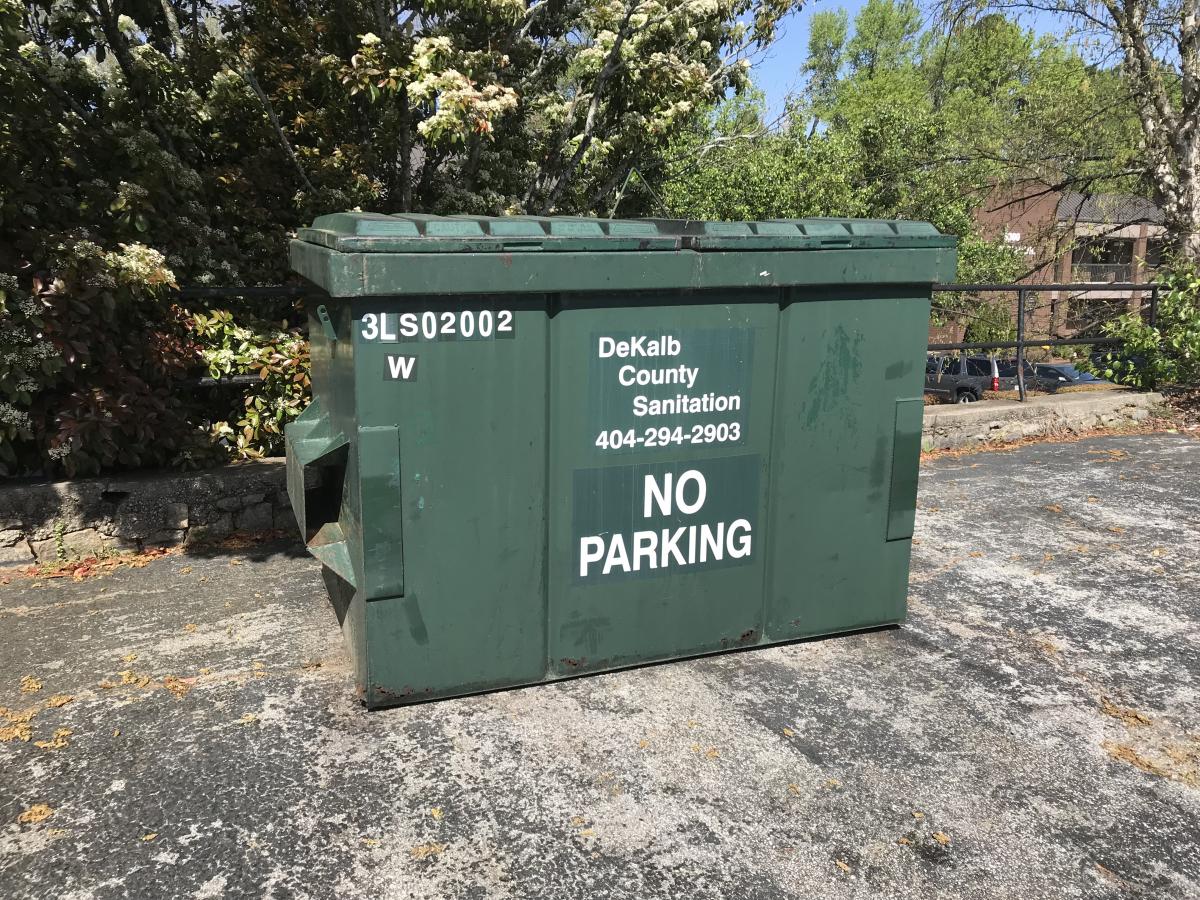 The Sanitation Division provides front-end loading, compactor and open-top roll-off solid waste services to commercial entities, including industrial businesses, multifamily residential complexes, universities and medical centers.
Commercial and residential sanitation fees
Solid waste fee structure - click here
Commercial account welcome packet
Click here for the necessary applications and forms required for establishing service.
Commercial account welcome packet (individual forms):
Establishing Commercial Sanitation Collection Service Letter and Application
Requirements for Establishing Commercial Sanitation Service
Commercial Container Options and Pricing
ACH Recurring Payment Authorization​ Form
Establishing Commercial Single-stream Recycling Service​ Letter and Application
Commercial Single-stream Recycling Flyer
Commercial Recycling Fee Payment Options
Roll-off Container Application/Hold Harmless Agreement
Commercial Dumpster Use Policies and Procedures
ACH Cancellation Request Form​
Commercial containers and services
A container delivery and removal fee of $150 per container, and the first month's charges must be prepaid prior to delivery of garbage containers.
Prices vary on containers. Please contact the commercial customer service team at (404) 294-2900 for more information on container availability and pricing or see the commercial sanitation fees section below.
Commercial front-loader (dumpster) service
Front-end loading customers are provided one or more containers of various sizes (3, 4, 6 and 8 cubic yards) and service frequency (1 to 6 days per week), depending on the customer's needs. A high-compaction vehicle designed with mechanical lifting arms and adjustable forks lifts and dumps the contents of the container into the body of the vehicle. The vehicle operator uses controls inside the cab to lift, empty and return the container to the ground.
Open-top and compactor service
The Sanitation Division provides 10 to 40 cubic yard self-contained or break-away compacting containers to customers generating large volumes of compressible waste, but lack adequate space for multiple front-load containers. Compactor containers are stationary, and normally have a garbage compaction ratio of 3:1 or 4:1 compared to front-loading containers. The compactor is lifted onto the bed of a tilt frame (roll-off) vehicle and taken to the Landfill, emptied and returned to the customer.
The Sanitation Division also provides open-top container service to customers who generate bulky, but not extraordinarily weighty materials. These containers vary in size from 10 to 40 cubic yards. Open-top containers are hoisted onto the bed of a roll-off truck, taken to the disposal site, emptied and returned to customer for an additional service fee.
The following items are not permitted in commercial garbage containers:
Tires
Bed springs
Tree logs or limbs
Deceased animals
Furniture and carpet
Wood, wooden crates and pallets
Rock, dirt, concrete blocks, etc.
Large household or industrial appliances
Large automobile parts: fenders, doors, axles, rear ends, transmissions, etc.
Commercial single-stream recycling service
The Sanitation Division provides single-stream recycling service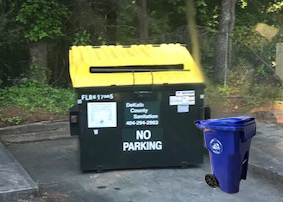 to commercial entities on request, and for a fee. New customers are automatically provided with a six cubic yard recycling container. Only in instances of space constraints will customers be approved for 65-gallon recycling roll carts. All commercial recycling accounts must have an established collection service frequency of at least once per week. Service is billed at $7.50 per collection. To establish service or make changes to existing service, please complete the commercial recycling subscription form below. Once completed, please email the form to sanitation@dekalbcountyga.gov, or mail or drop it off to the completed application to the Sanitation Division's administrative office, 3720 Leroy Scott Drive, Decatur, GA 30032. Attention: Commercial Recycling.
For more information, please call 404-294-2900 or email sanitation@dekalbcountyga.gov.
Commercial recycling forms and flyers
Commercial recycling subscription form - click here
Commercial recycling payment options - click here
Commercial recycling poster - click here
What can be recycled
Click here for a complete listing of acceptable and unacceptable recyclable items.