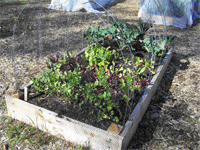 DeKalb County seeks to promote healthy eating and active living in DeKalb through community gardens. Community gardens are growing in popularity around the country as people become more concerned with healthy food choices and local food supplies. In addition, community gardens bring people of all ages and abilities together, to enjoy healthy living, and recreation and social activity regardless of cultural, social or economic background.
DeKalb County is committed to providing this beneficial activity to the public. We recognize the importance and need for more community gardens through our policy objectives as developed by the Green Commission, the Community Garden Committee, the Sustainability Committee, and the Parks and Recreation Comprehensive Plan.
To get more information about our Garden In The Parks program, please contact the Natural Resources Management Office at (404) 371-2082 or download an application package.
Community Garden ProgramChecklist
Complete the DeKalb County Community Garden Permit Application.
All members of the Garden Group must sign the Acknowledgement of Responsibilities and Guidelines and the Release and Indemnification Agreement. These documents must be returned to the Natural Resources Management Office.
Receive Park assignment from the Natural Resources Management Office.
Obtain a water meter number from the Natural Resources Management Office and set up an account with the Watershed Management Department for water service.
Receive a notice to proceed with your community garden from the Natural Resources Management Office.
Benefits of Community Gardens1
Improves the quality of life for people in the garden
Provides a catalyst for neighborhood and community development
Stimulates Social Interaction
Encourages Self-Reliance
Beautifies Neighborhoods
Produces Nutritious Food
Reduces Family Food Budgets
Conserves Resources
Creates opportunity for recreation, exercise, therapy, and education
Reduces Crime
1. American Community Garden Association, July 2009