The DeKalb County Fire Rescue Department is a modern, all-hazards organization that responds to calls for fire suppression, emergency medical services, and other hazardous conditions impacting our community. The department is currently recognized by the Insurance Services Office (ISO) as being an ISO Class 2 fire department which places DeKalb County in the top three percent of recognized fire departments in the United States.The department provides countywide coverage from 26 strategically located fire stations across DeKalb County.
We are proud to serve all of the unincorporated areas of DeKalb County as well as the cities of Avondale Estates, Brookhaven, Chamblee, Clarkston, Doraville, Dunwoody, Lithonia, Pine Lake, Stone Mountain, Stonecrest and Tucker. The department also provides a wide arrangement of non-emergency services in the community through the Public Education Division, Fire Marshal's Office and the Investigations Unit.
To submit an Open Records Request to the DeKalb County Fire Rescue Department, please email the department at: dcfropenrecords@dekalbcountyga.gov
DEKALB COUNTY 911 NURSE NAVIGATION PROGRAM
DeKalb County, in collaboration with American Medical Response, is launching an innovative program to provide residents with a variety of options for quickly reaching the appropriate level of medical care when calling 911. Based on the description of your symptoms, you may be transferred to a Nurse Navigator who will work with you to determine an appropriate path for treatment and assist in coordinating that care. To learn more about the the Nurse Navigator Program here in DeKalb County watch the video below and visit the Nurse Navigator page here on the Fire Rescue website. 
DeKalb County Fire Rescue is now hiring Pre-Qualified Firefighters and Firefighter Recruits. Click the flyers below to apply.
DeKalb County Fire Rescue is now hiring EMT's and Paramedics for the EMS Division. Click the flyer below to apply.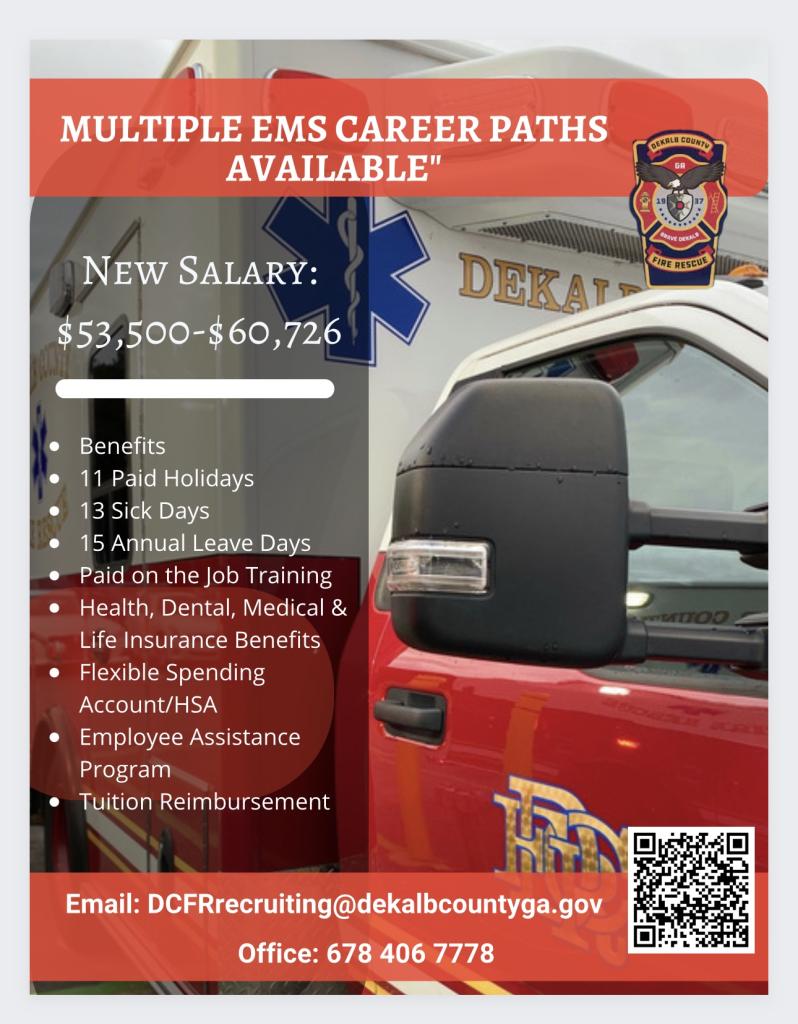 Are you ready to "Answer Your Calling"? For more information about becoming a DeKalb County Firefighter click here.