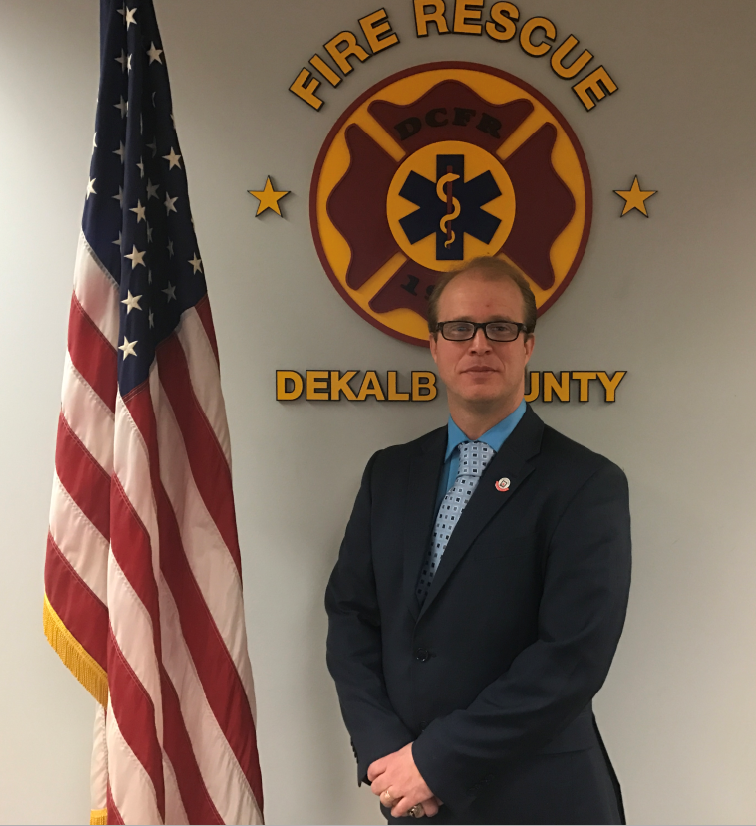 Joseph Cox - Fire Marshal
The Fire Marshal's Office is charged with enforcing "Rules and Regulations for the State Minimum Fire Safety Standards" as adopted by the State Fire Commissioner. The Fire Marshal is the authority having jurisdiction in these matters for all of unincorporated DeKalb County and for the cities of Dunwoody, Doraville, Chamblee, Stone Mountain, Lithonia, Avondale Estates, Clarkston, Lithonia, and Pine Lake.
The Fire Marshal's Office has the responsibility to conduct fire and life safety inspections of existing buildings and structures, review plans and specifications for proposed buildings and structures, maintain records, and respond to customer questions and concerns relating to fire hazards.
DeKalb County requires that plans and specifications be reviewed by plan reviewers prior to approval of building or installation permits. This ensures public safety by establishing compliance with local ordinances, including the local fire code. Plans submitted to the Fire Marshals Office take between 3 to 10 business days for review. Projects located in DeKalb County municipalities should contact that municpality to arrange for the pickup of your plans after the DeKalb County Fire Marshals Office has completed their review as each municipality has its own process.
For more information about services provided by the DeKalb County Fire Rescue Fire Marshals Office contact our office via email at dekalbfmo@dekalbcountyga.gov or by phone at 404-371-2828.
Routing for fire plans review:
Projects located in Unincorporated DeKalb County must submit plans diectly to DeKalb County Planning and Sustainability
Projects located in a municipality in DeKalb County must submit plans to the municipality which will then provide a city routing sheet and then the applicant can submit to DeKalb County Planning and Sustainability
Applicable Codes within DeKalb County
2012 IBC with Georgia amendments
2012 IFC with Georgia amendments
2012 NFPA 101
2012 IMC with Georgia amendments
2017 National Electrical Code
Chapter 120-3-3 Rules and Regulations for the State Minimum Fire Safety Standards
Chapter 120-3-20 Georgia Accessibility Code
Chapter 120-3-11 Georgia Rules and Regulations NFPA 30 and 30A
2013 NFPA 13 and 13R
2013 NFPA 72
For DeKalb County Fire Prevention Codes see DeKalb County Municode Chapter 12
For all other fire code standards see State of Georgia Fire Marshals Office
Forms or links for use when processing plans or permits with the DeKalb County Fire Marshals Office