BUSINESS LICENSE RENEWAL NOTICE
Effective Immediately
If you submitted your 2022 Business License renewal BEFORE April 15, 2022, late fees, penalties and interest will not be assessed for your license.
Additionally, all state licenses and certifications must be up to date or your license will be subject to revocation.
Please use the link below to verify the status of your license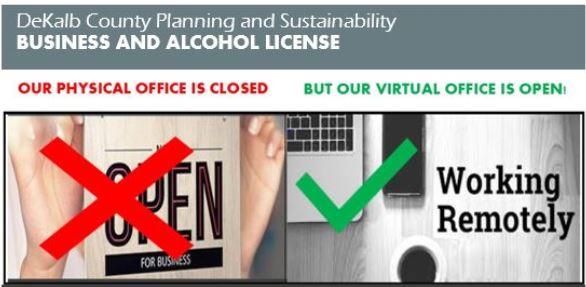 In efforts to adhere to the health standards preventing further spread of COVID-19, DeKalb County Department of Planning & Sustainability has restricted building access to the public effective Monday, March 16, 2020.  While physical access to our building will be restricted to the general public, our staff are working remotely and county services will still be available.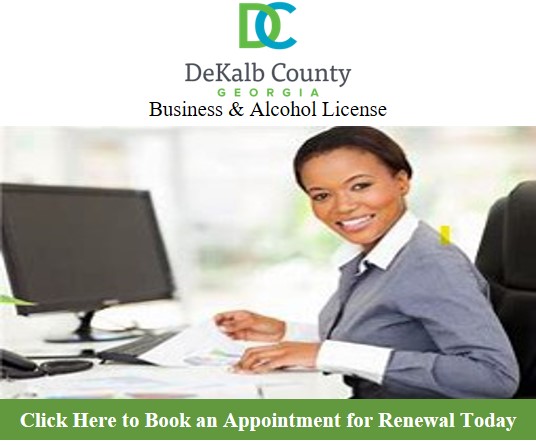 ** Announcements **

Penalty and interest update on 2022 Business License Renewal. Click HERE
2022 Business License Only Renewal Notice
The DeKalb County Business License (Business without
Alcohol License) Renewal period commences 
January 1, 2022 and ends April 15, 2022.
2022 Business Alcohol Renewal Application Cover Letter
The 2023 DeKalb County Alcohol License Renewal period commences October 1, 2022 and ends December 31, 2022.
EFFECTIVELY IMMEDIATELY
All new home-based business license applications with NO customer contact will no longer require the business registration affidavit.
Quick Links
  (Click Icons below for more information)
New Application
  (Click Icons below for more information)
Renewal Application
  (Click Icons below for more information)
Temporary License
  (Click Icons below for more information)
Excise Tax Reporting Forms
  (Click Icons below for more information)
      Other Resources
  (Click Icons below for more information)
 Relevant Ordinances
  (Click Icons below for more information)