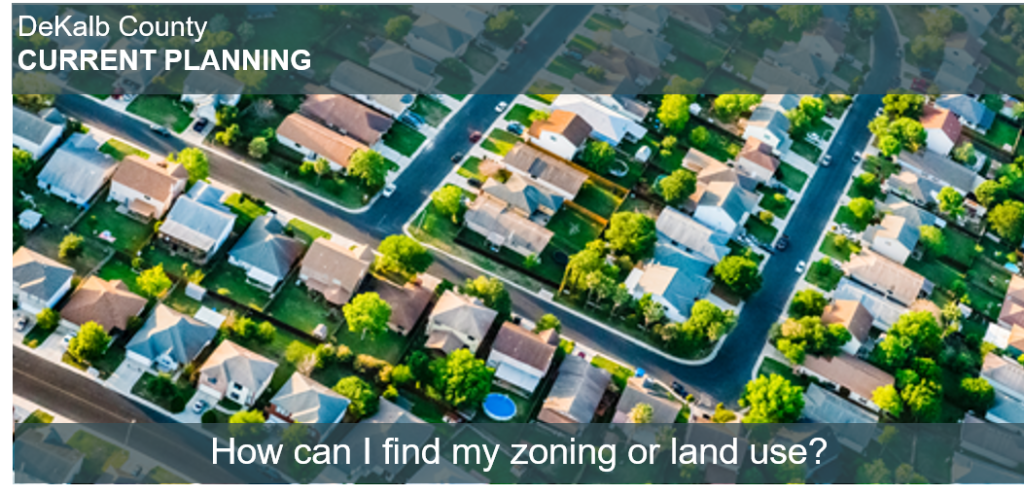 Zoning Code Update (ZCU)
Coming soon in late 2023


Municode Link
DeKalb Zoning Ordinace by Articles
Guides Checklists and Calendars




Link to all DeKalb County Overlay Regulations (Article 3)
Link to Overlay Maps (Interactive Map)

What are the steps in an overlay district review?

Pre-application conference with Staff
Submittal of application, site plan, building elevations
Commissioner notification (by Staff)
(If applicable) Request for citizen review team comments (by Staff)
Plan review meeting and revisions if necessary
Staff approval of plans elevations

FAQs

What is the purpose of an Overlay District?
Overlay district regulations and design guidelines are intended to preserve special characteristics of the area or guide development in a desired direction.  Overlay district regulations may establish architectural and design controls or prohibit uses that are considered to be detrimental to the character of a particular area.
Residential infill overlay districts establish a maximum height for new homes or additions to homes.

How is an Overlay District Established?
A District or Super District Commissioner initiates an overlay district, after or in conjunction with the formulation of a plan for the area. If you think an Overlay District would be beneficial for your neighborhood and/or the surrounding area, please contact your Commissioner. 

How do I know when to follow the overlay district regulations or to follow the regulations of the underlying zoning district?  
When there is a conflict between the standards of the overlay district regulations and the standards of the underlying district, the overlay district regulations control.  If there are no overlay district regulations for a particular development characteristic, but there are standards in the underlying zoning district regulations for the same development characteristic, the standards of the underlying zoning district must be met.