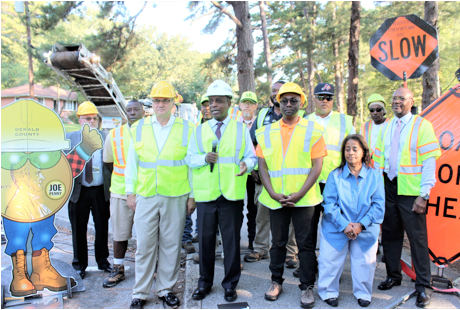 DECATUR, Ga. – Today, DeKalb County began repaving more than 300 miles of the worst streets and roads with funding generated from the one-cent Special Purpose Local Option Sales Tax (SPLOST) approved by voters in November 2017.
"I want to thank the voters, who entrusted their government to responsibly use their tax dollars to improve infrastructure throughout the county," said DeKalb CEO Michael Thurmond. "Today we are fulfilling our promise to resurface county streets, and there is much more to come."
The county kicked off the first project of the $9.48 million initial SPLOST paving contract by repairing one of DeKalb's badly deteriorated local roads, West Lakeside Drive. Contractor crews will use approximately 400 tons of material to mill the road, patch, and resurface, resulting in a smooth and safe street.
The initial SPLOST paving contract was approved by Board of Commissioners on July 24, 2018, using Georgia Department of Transportation Local Maintenance and Improvement Grants and county SPLOST funds.
This week, CEO Thurmond also introduced a SPLOST public education campaign and announced that the county has invested $8 million to purchase 60 new public safety vehicles and emergency equipment with SPLOST funds.
DeKalb County will receive an estimated $388 million in SPLOST revenue over the next six years to improve county roads, infrastructure, libraries, parks and public safety. For more information about DeKalb County SPLOST, visit www.dekalbcountyga.gov/splost.
###