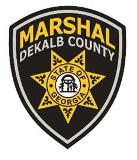 DECATUR, Ga.—The DeKalb County Marshal's Office (DKMO) began fully implementing its body camera program in May 2019 after extensive research and field testing. DKMO took lessons learned from other law enforcement agencies and used this to tailor a body camera program specific to its operations using the latest technology.

Each deputy is assigned a camera which is usually worn in an outer ballistic vest carrier specially equipped to accommodate the camera. When responding to calls for service, or upon deputy contact with the public, cameras will be activated. Other technology allows for the cameras to be turned on automatically depending on the nature of the event. The image can be viewed in real-time.

"The implementation of the body camera program was a priority for the Marshal's Office as it is an important step to enhance officer safety," said Marshal Richard Berkowitz. "It also helps to maintain the trust and transparency that the public deserves from a law enforcement agency."

Video footage and audio data, which is downloaded almost instantly, can be used by the Marshal's Office to assist with investigations. The body camera system allows for the tracking of both deputies and their vehicles via GPS, thus aiding in officer safety, and effective and efficient dispatching and management of resources.
###