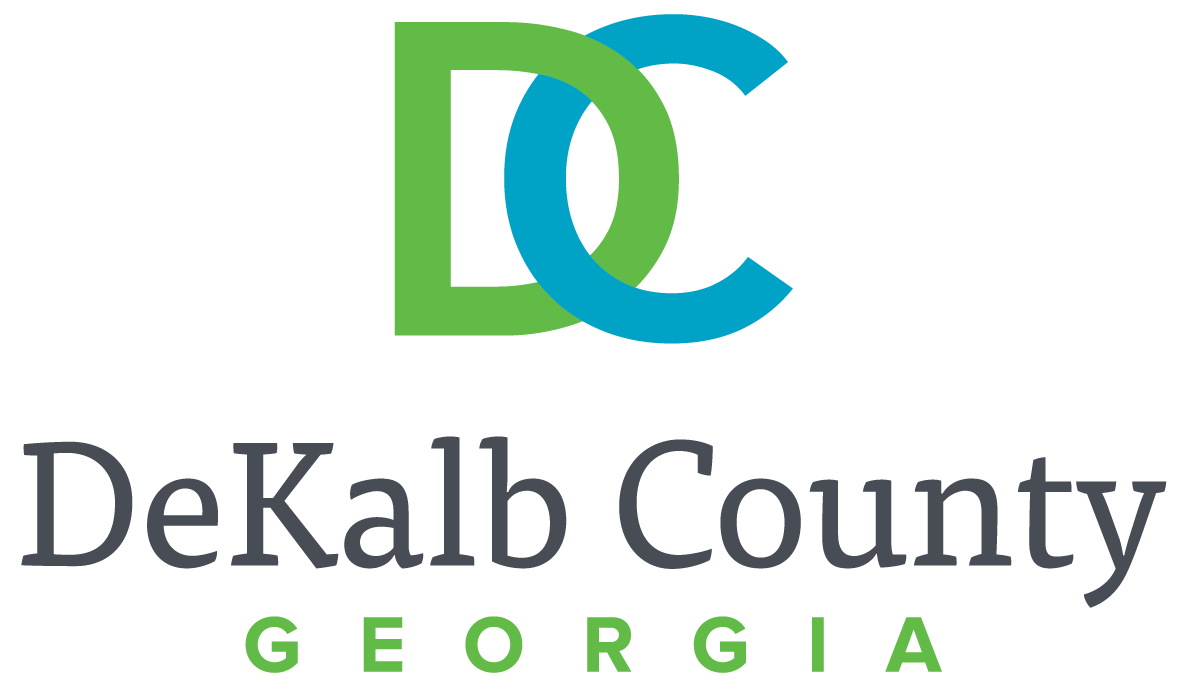 DECATUR, Ga. – DeKalb County added 10,600 people in the past year, its largest single-year growth since 2000-2001, in nearly two decades. The surge brings the county's total population to 744,530, according to estimates released today by the Atlanta Regional Commission.
"DeKalb County is becoming the preferred location for many residents and businesses," said DeKalb CEO Michael Thurmond. "We have gotten our fiscal house in order and made significant investments to improve county services, governance and accountability."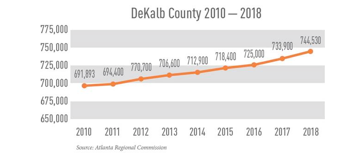 Thurmond also emphasized county strengths including an extensive interstate highway system, the second busiest airport in the state, a strong public transit network, improving public school system, numerous higher education and technical schools and incomparable healthcare facilities like the CDC, Emory, DeKalb Medical and Children's Healthcare of Atlanta.
DeKalb added the third most people in the 10-county region, trailing only Fulton (17,570) and Gwinnett (16,700) counties. The surge continued a trend of rapid growth. DeKalb grew by 8,900 people between April 2016 and April 2017 and 6,600 the previous year. The county has added more than 52,000 people since 2010.
For more details about ARC's population estimates, check out ARC's latest Regional Snapshot at https://33n.atlantaregional.com/regional-snapshot/regional-snapshot-metro-atlanta-2018population.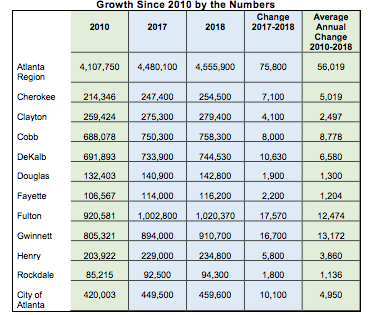 ARC's population estimates for major jurisdictions are developed using a combination of data sources including building permit data, a demographic accounting equation generated by Carl Vinson Institute of the University of Georgia, school enrollment trends, occupancy rates and more. The base for each successive year's estimates is the previous year's estimate, with the starting point for the decade's intracensal estimates the decennial Census count.
The Atlanta Regional Commission (ARC) is the official planning agency for the 10-county Atlanta Region, including Cherokee, Clayton, Cobb, DeKalb, Douglas, Fayette, Fulton, Gwinnett, Henry and Rockdale counties as well as the City of Atlanta and 73 other cities. The Atlanta Regional Commission serves as a catalyst for regional progress by focusing leadership, attention and planning resources on key regional issues.
###