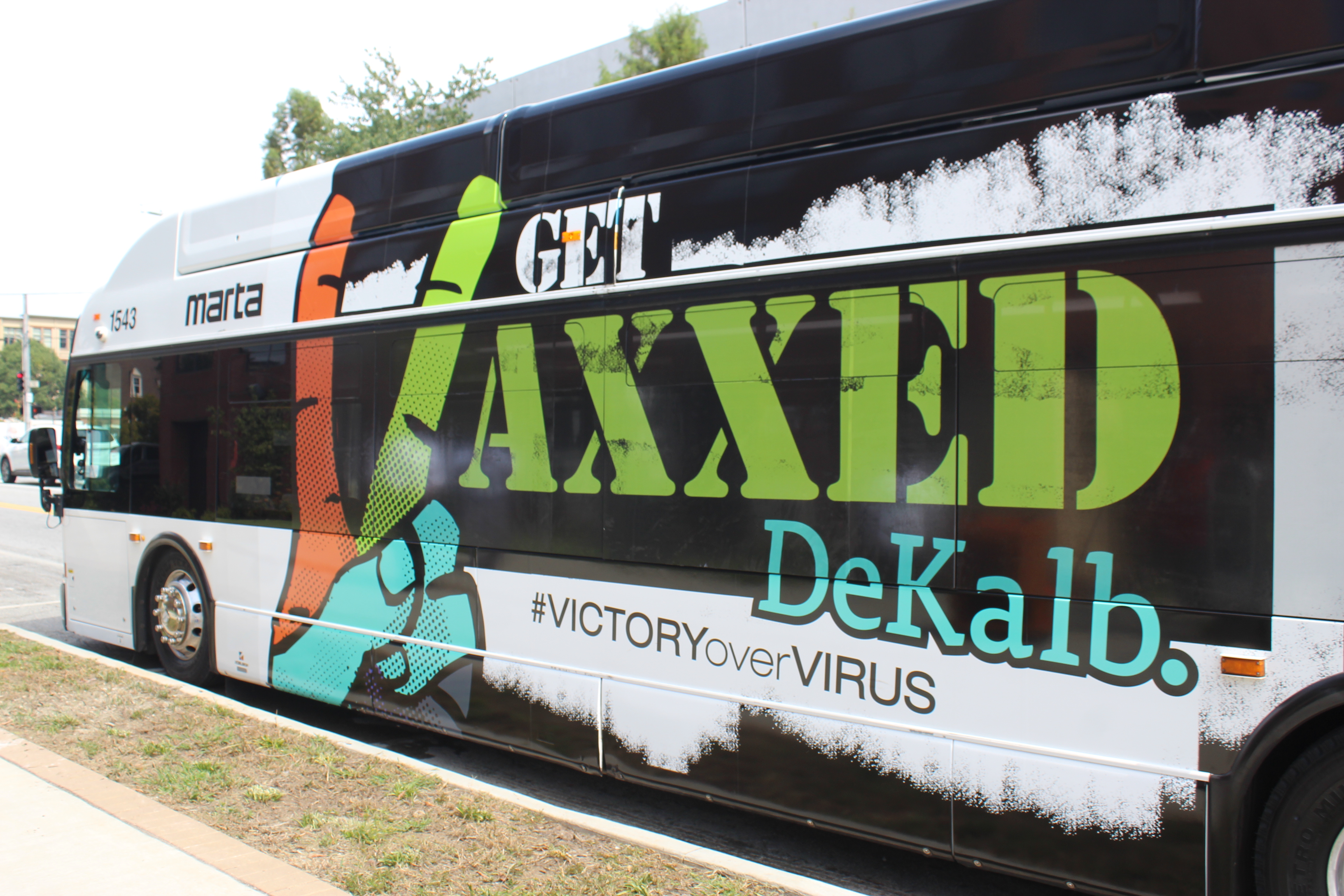 County launches 'Get Vaxxed DeKalb' media campaign
Today, DeKalb County Government, in partnership with MARTA, launched its "Get Vaxxed DeKalb" media campaign encouraging residents to get the COVID-19 vaccination.
A bus wrapped with a special artwork promoting the "Get Vaxxed DeKalb" messaging, along with t-shirts and baseball caps, were unveiled today in Decatur.
"We are grateful to MARTA for their continued partnership in protecting DeKalb County residents from the deadly COVID-19 virus," said DeKalb County CEO Michael Thurmond. "We encourage everyone to 'Get Vaxxed!'"
"The vaccination efforts happening in Dekalb County are vital in protecting people from the virus and its variants and we are eager to support this campaign and help spread the word in any way we can," MARTA General Manager and CEO Jeff Parker said.
Beginning in June, DeKalb County Government has held four COVID-19 vaccination events, with a fifth one scheduled for Saturday, Oct. 2. Before DeKalb began its vaccination events, approximately 44 percent of its eligible residents were fully vaccinated. DeKalb's push to get residents vaccinated has increased that percentage to 51 percent.
"We have surpassed our initial goal of 50 percent," CEO Thurmond said. Now our new goal is to get 60 percent of our eligible population vaccinated by Dec. 1 of this year."
Additional partners in the "Get Vaxxed DeKalb" campaign include the DeKalb County Board of Health, Medcura Health and Emory.
"The only way we're going to beat COVID-19 is if we come together and get vaccinated—not for the good of self, but for the common good," DeKalb District Health Director Dr. Sandra J. Valenciano said.