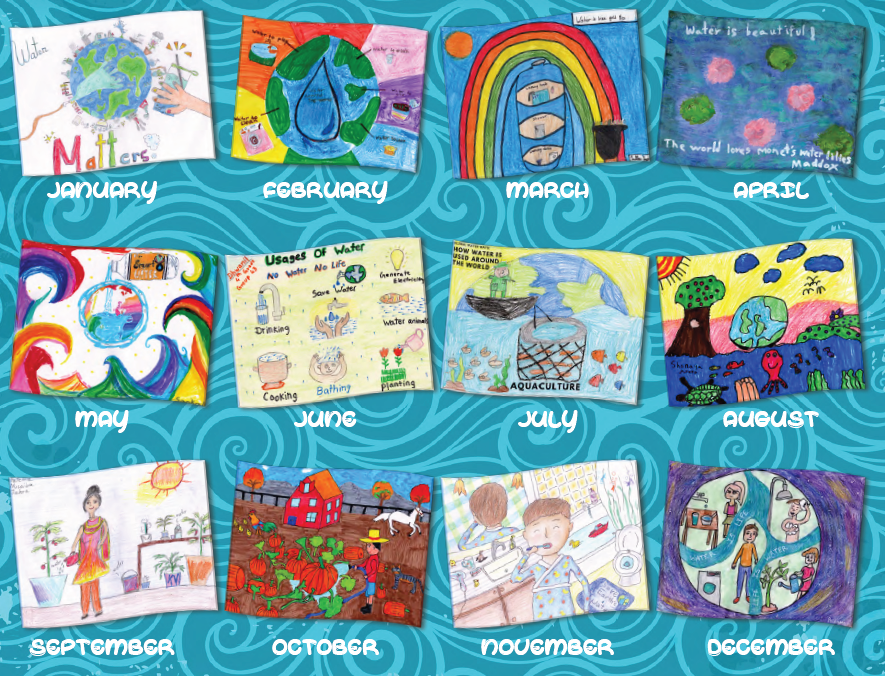 For the past 17 years, DeKalb Watershed Management has sponsored the Art Calendar Contest. The contest aims to promote awareness of the importance of water for a healthy way of life and sustainable future. This year's theme was "Global Water Ways: How water is used around the world."
All DeKalb County elementary students in public, private, parochial, and home schools were invited to participate. Students between four and eleven years old, from 15 schools submitted artwork; and twelve winners were selected. The winning drawings hail from Dunwoody, Fernbank, Henderson Mill, and Narvie J. Harris Traditional Theme Elementary and a Home School.
The calendar cover winner is fouth-grader Anuya Sancheti of Dunwoody Elementary, and the monthly winners are Eleanor Hanlon, Adhya Shakya, Lillee Igo, Maddox Ludwig, Sanika Almeida, Dhwanil Dalal, Chloe Cruse, Shonaya Arora, Fatema Nusaiba Jahra, Arthur Wang, and Karen (Qing) Jin. All 12 students will be recognized at a Board of Commissioners meeting in January 2022 by way of a DCTV video presentation.
For additional information visit www.dekalbcountyga.gov/watershed-management.