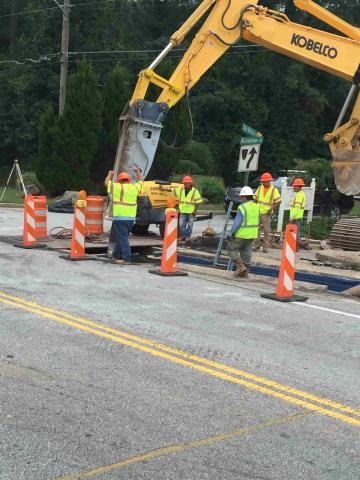 Sewer Upgrades on Columbia Drive Complete on Time and Under Budget
Project to increase capacity, reduce sanitary sewer overflows
DECATUR, Ga. – The DeKalb County Department of Watershed Management (DWM) announced the completion of a sanitary sewer improvement project designed to increase capacity and reduce sanitary sewer overflows in the Columbia Drive/Rainbow Drive area of Decatur. The project was completed several weeks ahead of its consent decree deadline for nearly $431,000 less than originally allocated. The DeKalb Board of Commissioners approved the changes in the Nov. 15 business meeting.
The sanitary sewer collection system in the Columbia Drive/Rainbow Drive area was upgraded to include a new gravity sewer main designed to move wastewater from a higher elevation to a lower elevation. The new project replaces an older lift station, providing more sewer capacity to reduce sanitary sewer overflows in the area.
"The DWM engineering and project management staff used creative thinking that reduced the construction timeline on this critical consent decree project, to improve the capacity and efficiency of the sewer collection system," said DWM Director Scott Towler. "The staff also generated a savings of nearly half a million dollars in construction costs, and we anticipate additional savings in maintenance and operations costs due to the lift station that was eliminated."
The new facility is part of the compliance effort required under the DeKalb County Consent Decree Program and is funded through the county's $1.345 billion capital improvement projects initiative.
###
This project was undertaken in connection with the settlement of an enforcement action, United States, et al., v. DeKalb County, Georgia, taken on behalf of the United States Environmental Protection Agency and the Georgia Environmental Protection Division under the Clean Water Act and the Georgia Water Quality Control Act.