DECATUR, Ga. – With a science fair project centered on water quality, students Caeley Woo and Abigail McHoul contacted DeKalb County Department of Watershed Management (DWM) with questions about water quality testing.
The Henderson Middle School seventh graders accepted an invitation to visit the Scott Candler Water Treatment Plant and embark on a rewarding adventure. Under the direct supervision of state-certified operators and laboratory analysts, the students tested various water qualities.
"Hands-on education is one of the best ways our students can learn about science," said DeKalb Interim CEO Lee May. "Our staff did a great job teaching the methods that help keep residents safe."
DWM laboratory staff members Melissa Bailey, Betty Logan, Jamilya Briggs and Carniece Speller assisted the students as they tested for total coliform bacteria, chlorine, pH, total hardness, fluoride, metals and minerals during their visit. To conduct the test, they used six bottled water brands, tap water and other water samples.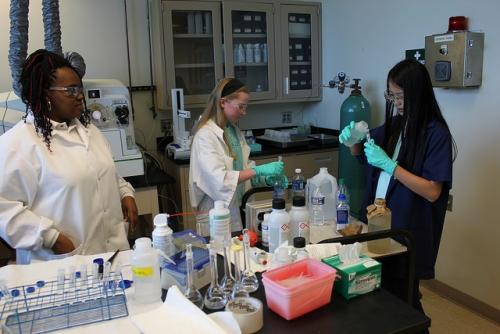 Lab staff and students test water.
During their visit, the students learned firsthand about the critical need to test the quality of drinking water as well as the water treatment processes and daily watershed functions that serve the residents of DeKalb County.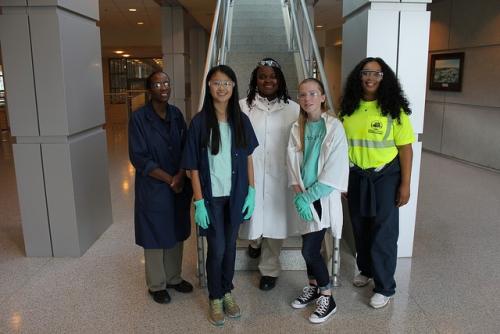 Betty Logan, Jamilya Briggs and Carniece Speller pictured with students Caeley Woo and Abigail McHoul
DWM provides its customers with high quality, safe drinking water that surpasses the U.S. Department of Environmental Protection Agency and the State of Georgia Environmental Protection Division requirements.
###
Follow news from DeKalb County at @ItsInDeKalb on Twitter and sign up for additional updates at www.onedekalb.com or send a text message with the word ONEDEKALB to 22828 (message and data rates may apply.