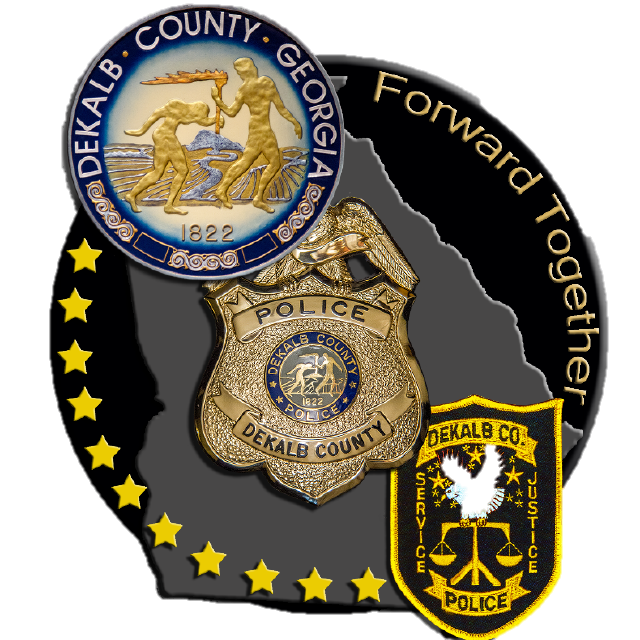 U.S. Attorney General Merrick B. Garland and the U.S. Justice Department  honored the DeKalb County Police Athletic League Plus (PAL Plus) program on March 17 with the Fifth Annual Attorney General's Award for Distinguished Service in Community Policing.
"DeKalb County is honored to have its PAL Plus youth outreach and career development program recognized by the attorney general," said DeKalb CEO Michael Thurmond. "In partnership with Georgia Piedmont Technical College, our police department is helping local youth to be prepared for gainful employment with critical work skills and experience."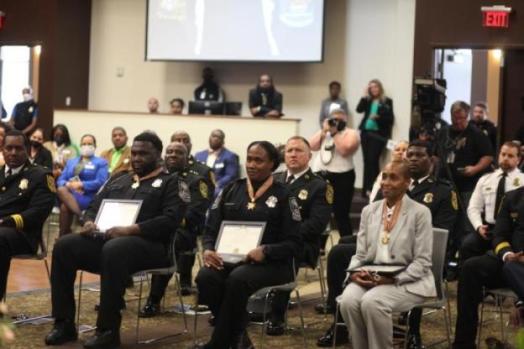 DeKalb County Police Detectives Khary Ricketts, LaTosha Prather and Dan-nae Webber
receive the Attorney General's Award for Distinguished Service in Community Policing.
PAL Plus was recognized for innovations in community policing, particularly when the pandemic threatened to leave at-risk youth with no summer programs. DeKalb County Police Detectives Latosha Prather, Khary Ricketts and Dan-nae Webber implemented a virtual summer academy that connected participants via Zoom, Instagram, and Facebook, focusing on mentorship, education and athletics. Community leaders, teachers and coaches, business leaders, entrepreneurs and nonprofits partnered with PAL Plus to make this innovative event happen, reaching more than 1,000 children and adults.
Other PAL Plus outreach programs included:
A back-to-school backpack giveaway which provided supplies to students who otherwise would have had trouble getting them.
The second annual virtual "Gaming with a Cop" event, which allowed kids to bond with DeKalb County police officers while competing against them in live video games. The event was designed to keep students busy while they were out of school for the President's Day holiday.
A career development program, a four-month life skills program to provide students with personal growth opportunities and to prepare them for future careers. PAL Plus partnered with Georgia Piedmont Technical College, local entrepreneurs, youth mentors, volunteers, and other police department support units. After the first session, eight of the nine participants were helped through the interview process and are now employed, with the remaining participant enrolling in the Georgia Piedmont College dual enrollment program.
"I am extremely proud Attorney General Garland is honoring our PAL Unit for our community outreach and engagement," said DeKalb County Police Chief Mirtha V. Ramos. "This is something that we strive to excel in everyday. As we know community policing is not a trend, but the way we should police our communities all day, every day."
This is the police department's first time winning the Attorney General's Award for Distinguished Service, which recognizes 20 law enforcement officers and deputies from 14 jurisdictions across the country for exceptional efforts in innovations in community policing, criminal investigations, or field operations.
"We all know that, too often, the exceptional work of our country's law enforcement officers goes unnoticed," said Attorney General Garland. "We know that it is a very tough job in the best of circumstances; but this year, between a worldwide pandemic and a variety of civil and social justice issues taking center stage, the job has been even more difficult. Both the Biden Administration and the Department of Justice remain committed to our efforts to keep the nation's communities safe places to live and work, as we also continue to support building trust between law enforcement and the community. These awards demonstrate that continued commitment as we honor those who exemplify what it means to protect and serve."
Complete information on the Fifth Annual Attorney General's Award for Distinguished Service in Community Policing can be found at www.justice.gov/ag/policing-award.