-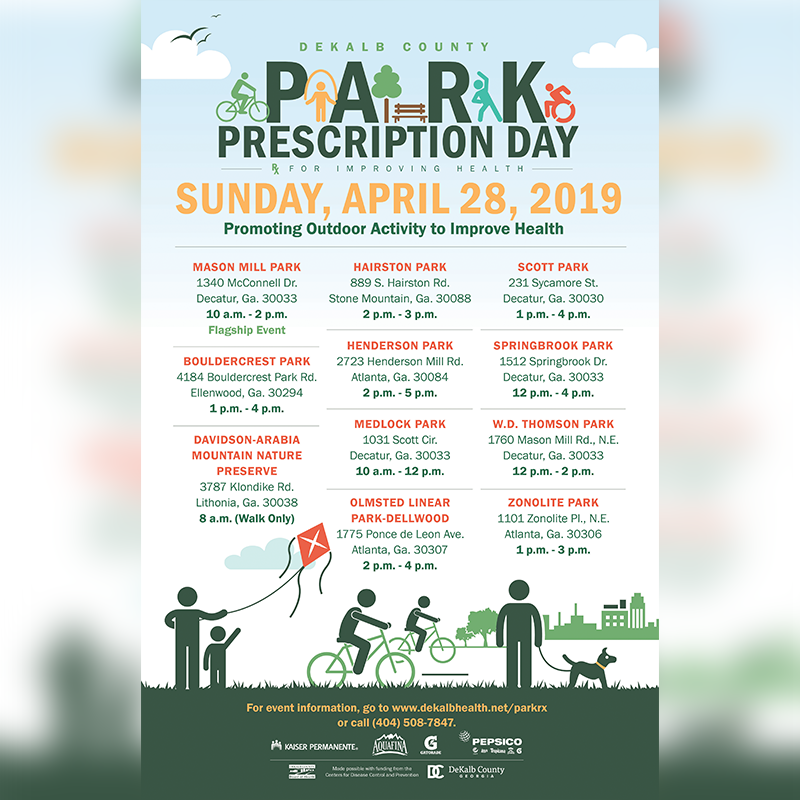 Park Prescription Day is a national day of activities taking place in parks and green spaces around the country. This celebration is a growing movement of prescribing nature to improve healthier lifestyles. The goal of the day is to connect people with parks and improve physical, mental and spiritual health.
All events are free and open to the public at participating locations:
Mason Mill Park (Flagship Event) - 1340 McConnell Dr., Decatur, Ga. 30033, from
10 a.m. - 2 p.m.
Activities: Yoga, cardio, guiding walking tour, kid-focused fitness, health education and more.
Bouldercrest Park - 4184 Bouldercrest Park Rd., Ellenwood, Ga. 30294, from 1 - 4 p.m.
Activity: To be announced.
Davidson-Arabia Mountain Nature Preserve - 3787 Klondike Rd., Lithonia, Ga. 30038, at
8 a.m.
Activity: Walking.
Hairston Park - 889 S. Hairston Rd., Stone Mountain, Ga. 30088, from 2 - 3 p.m.
Activity: Fitness obstacle course.
Henderson Park - 2723 Henderson Mill Rd., Atlanta, Ga. 30084, from 2 - 5 p.m.
Activities: Kickboxing, strength training and Caribbean dance.
Address
Mason Mill Park
1340 McConnell Drive
Decaur, GA 30033
United States