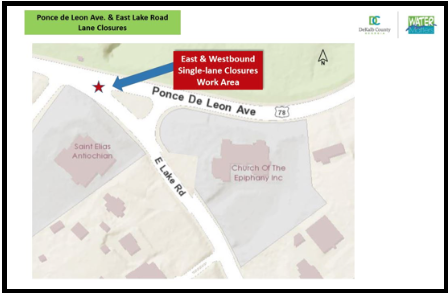 DECATUR, Ga. – On Monday, May 20, between at 8 p.m. and 4 a.m., the DeKalb County Department of Watershed Management (DWM) will close one traffic lane in both directions along Ponce de Leon Avenue at East Lake Road to conduct sewer main inspections and repairs.
Lane closures are necessary to allow contractors to perform closed-circuit television, or CCTV inspections and specific sewer main repairs along a portion of Ponce de Leon Avenue. Flaggers will assist motorists safely through the construction zone.
Residents are advised to use alternate routes to gain access to northbound access to East Lake Road from Ponce de Leon Avenue.
These repairs are part of Consent Decree upgrades which include $105 million in improvements to reduce sanitary sewer overflows, increase system capacity and replace defective pipes.
For more information, call the DWM Project Information Line at 1-800-986-1108 or email projectinfo@dekalbcountyga.gov.