DeKalb County Citizens Drainage Program (CDP)

The Citizens Drainage Program (CDP) was established to assist homeowners with managing drainage conditions on private property. Under the CDP, a property owner may request drainage pipes and/or rubble rock up to a value of $2,500 (about 50 tons of rock). Upon approval by County drainage inspectors, the County will provide the rock or pipe, however the installation and follow-up maintenance are the responsibility of the homeowner. For more information about DeKalb County's Citizens Drainage Program, please contact Roads and Drainage customer service at (404) 297-3840.
DeKalb Storm Drain Marking Program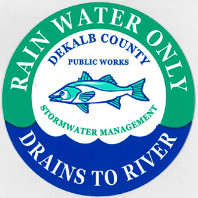 DeKalb County invites citizens throughout the county to volunteer to install storm drain markers on their catch basins. Storm Drain Marking (and stenciling) programs have been proven to be an effective, low-cost method of educating the population about water quality. Getting started installing storm drain markers on catch basins in your neighborhood is easy. If you would like more information about the Storm Drain Marking Program please click HERE or contact the Stormwater Section of DeKalb County Roads and Drainage at (404) 297-4464.
Hazardous Household Waste Disposal

Improper disposal of household hazardous wastes can contribute to stormwater pollution and can be toxic to fish and wildlife. An average Georgia household generates an estimated 20 pounds of household hazardous waste each year. That's a total of 62 million pounds - enough to fill 1,550 tractor trailers every year! Helpful tips are included in the following document: Household Solutions for Preventing Water Pollution from Hazardous Wastes. Share what you have learned with your family and friends. Together we can prevent household hazardous products from becoming potential pollutants in our waterbodies.