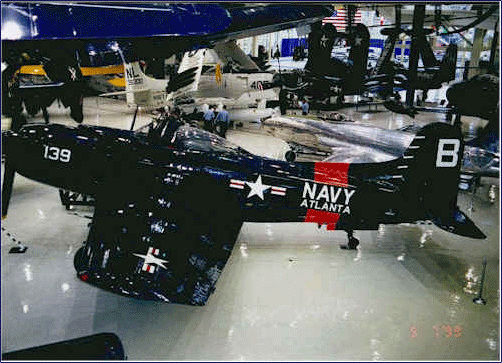 The Navy AM-1 Mauler pictured here with PDK's NAS Atlanta insignia is preserved at the National Museum of Naval Aviation History in Pensacola, FL. In April, 1949, Martin Corporation test pilot O.E. "Pat" Tibbs flew this Mauler to set an unofficial weight lifting record of 10,648 pounds. This included three 2,200-pound torpedoes, twelve 250-pound bombs, and 800 rounds of ammunition for the four wing-mounted 20mm cannons.
 
Specifications:
Navy carrier-based attack bomber; single-engine low-wing monoplane of all metal construction.
Engine: Pratt & Whitney 28-cylinder R-4360 Wasp Major air-cooled radial; nicknamed the "corncob" for its four staggered rows of seven cylinders.
Weights: 15,257 lbs empty
                24,145 lbs loaded
Performance: Climb / 3,130 ft minute
Ceiling / 24,630 ft
Range / 1,324 miles
Squadrons at NAS Atlanta flying the AM-1 were VA-671, VA-672, VA-673, and VA-674. All four squadrons were in the Naval Reserve. The last active-duty Mauler remained in service with VC-4 until October, 1950; Reserve units used them until 1953.
The above information was courteously provided by the National Museum of Naval Aviation History, Pensacola, FL.
For more information on PDK History, go to our history page.