DECIDE DEKALB DEVELOPMENT AUTHORITY
President Dorian DeBarr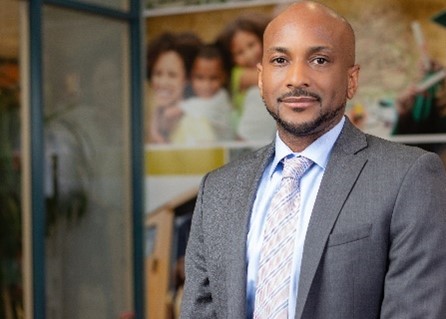 Bio:
Dorian DeBarr is an accomplished and passionate economic developer. As President of Decide DeKalb Development Authority (DDDA), one thing is apparent — Mr. DeBarr believes DeKalb County is a great place to live, work, and do business.
In partnership with DeKalb County via an intergovernmental agreement (IGA), Decide DeKalb serves as the primary facilitator of business development and job growth throughout the county. Since joining Decide DeKalb five years ago, Mr. DeBarr has guided the creation and implementation of Advance DeKalb, the Authority's 501(c)(3) division. Advance DeKalb is responsible for raising funds over the next five years to promote inclusive job creation. DeBarr's keen oversight has the team currently on par to meet and surpass its financial goals. Since 2016, DeBarr has raised Decide DeKalb's annual budget three times over, an accomplishment for even the most seasoned financial officer. Mr. DeBarr led Decide DeKalb to deliver unprecedented job growth in needed employment centers and overall county investments in 2019 and 2020. Strong leaders depend on strong relationships and Mr. DeBarr fostered significant inroads in how Decide DeKalb was perceived by key stakeholders. He created comprehensive and collaborative relationships that proved beneficial for all parties. In 2020, Decide DeKalb introduced a more equitable and inclusive housing policy co-authored and chaired by Mr. DeBarr.
Before joining Decide DeKalb, Mr. DeBarr served as the chief financial officer (CFO) of Invest Atlanta, attracting investments to Atlanta's most underserved communities.
Outside of the office, you will find Mr. DeBarr serving the community with his time and talent. He is a 2020 inductee into the 100 Black Men of Atlanta, Inc., a mentor and board member to Leadership DeKalb, and a board member of Georgia Piedmont Technical College, DeKalb Work Source, and DeKalb Library Foundation.
Mr. DeBarr is a graduate of Georgia Southern University where he earned both his Bachelor of Business Administration and Master of Accounting degrees. He is a certified public accountant (CPA) and an active member of the American Institute of Certified Public Accountants and the Georgia Society of CPAs. His proudest title to date is that of "dad" to his three amazing daughters.
Department Summary:
Decide DeKalb Development Authority is the official economic development organization in DeKalb County. Decide DeKalb and its board of directors work diligently to bring and retain first-class businesses to the county and remain committed to identifying a flourishing pathway to quality developments and job creation for a thriving quality of life for all DeKalb residents.
Department Factsheet:
In 2021, the Decide DeKalb team facilitated 2,300 new and retained jobs and nearly $380 million in new capital investment.
Decide DeKalb recognizes the importance small and medium-sized businesses are for a thriving community. So much so that Decide DeKalb conducted 68 Business Retention & Expansion visits in 2021.
Decide DeKalb partnered with WorkSource DeKalb to create MADE in DeKalb, a program that helps to build the talent pipeline for the manufacturing and distribution industries in the county. Ten educators participated in the inaugural program in 2021 which impacted over 1K students in elementary, middle, and high school throughout the county.
WE DeKalb is a down payment grant program facilitated by Decide DeKalb that assists those home-buyers looking to purchase in the country. To date, WE DeKalb has provided 83 down payment grants totaling $18.2 million. The average down payment grant is $8,300.
DeKalb Entertainment Commission (DEC), a division of Decide DeKalb, sparks economic development and vitality for the county's film, music, and digital entertainment sectors. In addition to managing film permitting and location selection in DeKalb, DEC helps to identify training and workforce opportunities for creatives through its collaborative network of local organizations who support these individuals and their work.
Decide DeKalb's response to building an inclusive and equitable county for economic development established the position of Equitable Economic Development Program Manager in 2021. This role is focused on inclusive growth, collaboration and transparency in underrepresented areas of the county and will use these values to help guide DeKalb's efforts around business and workforce development.
For more information, visit: https://www.decidedekalb.com/.