HUMAN SERVICES
Director Damon Scott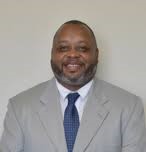 Bio:
For the past 29 years, Damon Scott has led Human Services strategy, design, and implementation in private, for-profit, non-profit, quasi-governmental, and government sectors, holding titles along the way of Administrator, Director, Executive Director, Executive Vice-President, Chief Operating Officer, Chief Operations Officer, and Department Head. As a subject matter expert in the field of Human Services, Mr. Scott has served as a Consultant, Advisory Board member, Strategic Advisor, and Board member to countless organizations helping each to improve operational efficiencies.  He has led state-wide Human Services initiatives notably in the non-profit sector and in behavioral healthcare.
Since October 2017, Mr. Scott has led the DeKalb County Human Services Department to address the human service needs of DeKalb's more than 700,000 residents.  Damon holds degrees from Trinity College (CT) and New York University and has post-graduate certification in Clinical Studies.  Mr. Scott has studied internationally, and is a former college basketball point guard, and a Licensed Master Social Worker.  He is a married father of two (daughter is a graduate of North Carolina A&T University and son who is a senior at Grayson High School). Damon is a Leadership Charlotte Class #30 graduate and a graduate of Leadership DeKalb, Class of 2020.
Department Summary:
The DeKalb County Human Services Department is a comprehensive network of county programs and services for ages 0 to 80+ to connect families by providing resources to address their essential needs which leads to stabilized and strengthened DeKalb County residents. Our department supports the State Department of Human Services' mission to strengthen Georgia by providing individuals and families with access to services to promote self-sufficiency, independence and protect Georgia's vulnerable children and adults from birth to end of life.
Department Factsheet:
The DeKalb County Human Services Department has oversight and service areas that touch more than 30,000 persons annually (children, families, individuals, and seniors).  In 2020, the Human Services Department redesigned its service delivery model in response to the COVID-19 (Coronavirus) pandemic to meet the needs of the County's residents safely and effectively.  Accomplishments for 2021 include:
30,000 persons received services from Human Services Department annually
Serves the largest and most diverse senior services population in the Atlanta metro-area
Provided 129,956 home delivered meals and 71,214 congregate meals to seniors.
Awarded $907,452 in human services grants to 56 local non-profits.
Expanded transportation options to seniors by providing more than 18,742 rides.
Hosted 107 online classes for seniors and youth through the Virtual Village- an online platform which received more than 47,000 user visits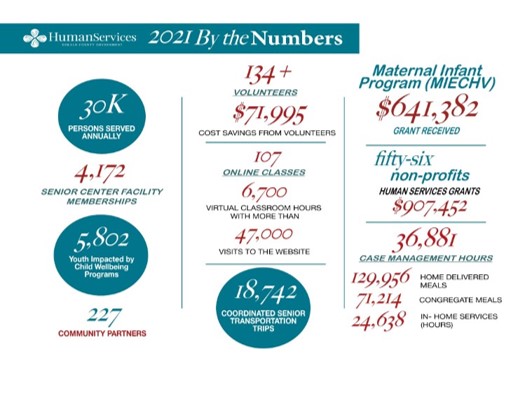 For more information, visit: https://www.dekalbcountyga.gov/human-development/human-services.