JOSEPH K. COX, DIRECTOR OF EMERGENCY MANAGEMENT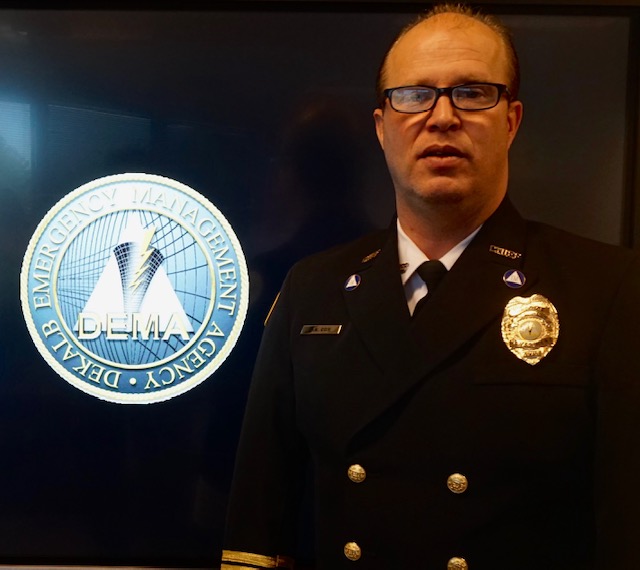 DeKalb County CEO Michael Thurmond appointed Joseph K. Cox, Director of DeKalb Emergency Management Agency (DEMA), effective July 25. He had been the acting DEMA director since February 2020. Previously, he served as DeKalb County Fire Marshal for three years. "Director Cox has served DeKalb County with distinction and dedication for nearly four years," said CEO Thurmond. "During these challenging times, we need his steady hand and extensive experience as we deal with COVID-19 and other threats to the health and safety of our citizens."
He has been responsible for activating, coordinating, and operating the 24-Hour DeKalb County Unified Command Emergency Operations Center, continuing since late February 2020, for the COVID 19 Pandemic impacting DeKalb County, as well as, the early summer Civil Unrest/Protest activity, multiple Tropical Storm(s) effecting DeKalb County during the late summer/early fall seasons, and most recently, supporting/assisting the DeKalb County Board of Election Early Voting and November 3rd Election Day activities. Furthermore, he has served on the DeKalb County Executive COVID 19 Task Force, assisting/supporting all daily preparedness, response, mitigation, and recovery efforts throughout DeKalb County since March. Additionally, the DeKalb County Emergency Management Team has coordinated, secured, and facilitated the distribution of almost 487,000 individual pieces of Personal Protective Equipment (PPE) and Sanitizing Materials, to #25 DeKalb County Front-Line Departments, #12 Incorporated Cities, #7 Assisted Living Facilities/Day Cares, as well as, MARTA, Stone Mountain Park, and DeKalb County School System. DEMA is also responsible for CodeRED and the FEMA IPAWs Mass Public Emergency Notification, of which has been implemented on #6 individual occasions in 2020 due to the COVID Pandemic and recent Civil Unrest/Protests in DeKalb County. This opt-in system provides rapid notification to residents and businesses about emergency events within DeKalb County. Director Cox manages a staff of six and an annual budget of nearly $1 million.
A native of North Carolina, Cox's experience includes a 20-year career in the fire service, specializing in emergency management, fire investigations, fire inspections, and fire prevention. Cox is an accredited ProBoard IAAI Certified Fire Investigator, NFPA Certified Fire Inspector II, IFSAC Fire Life Safety Educator, and GA Certified Firefighter. His education includes an Associate degree in Fire Science and a Bachelor's degree in Fire Administration from Columbia Southern University, as well as, Master's and Doctorate degree in Theology.
---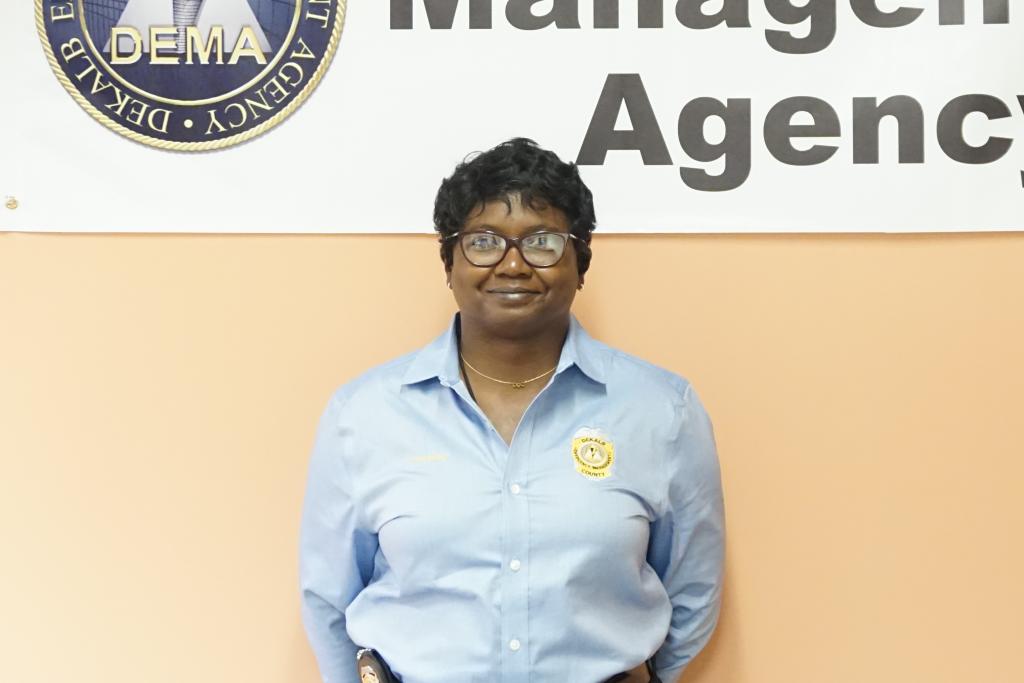 CAPTAIN YOLANDA HARKLEY, EMERGENCY MANAGEMENT SPECIALIST
LEPC CHAIRWOMAN AND SAFETY OFFICER
Yolanda Harkley is the longest tenured county employee within the DEMA team. Captain Harkley began her career with the DeKalb County Fire Department over 23 years ago. She recently expanded her career with the county, transferring to DEMA in 2020. She serves as the Local Emergency Planning Committee (LEPC) Coordinator and the Safety Officer with DEMA. Yolanda brings a treasure trove of knowledge, talent, and experience to DEMA and looks to promote more emergency preparedness within the community and stakeholders through awareness and training. Her future plans are to ensure each citizen is personally aware and prepared for any natural and man-made disaster that may affect our community. She believes that we should always do unto others as you wish them to do unto you.
---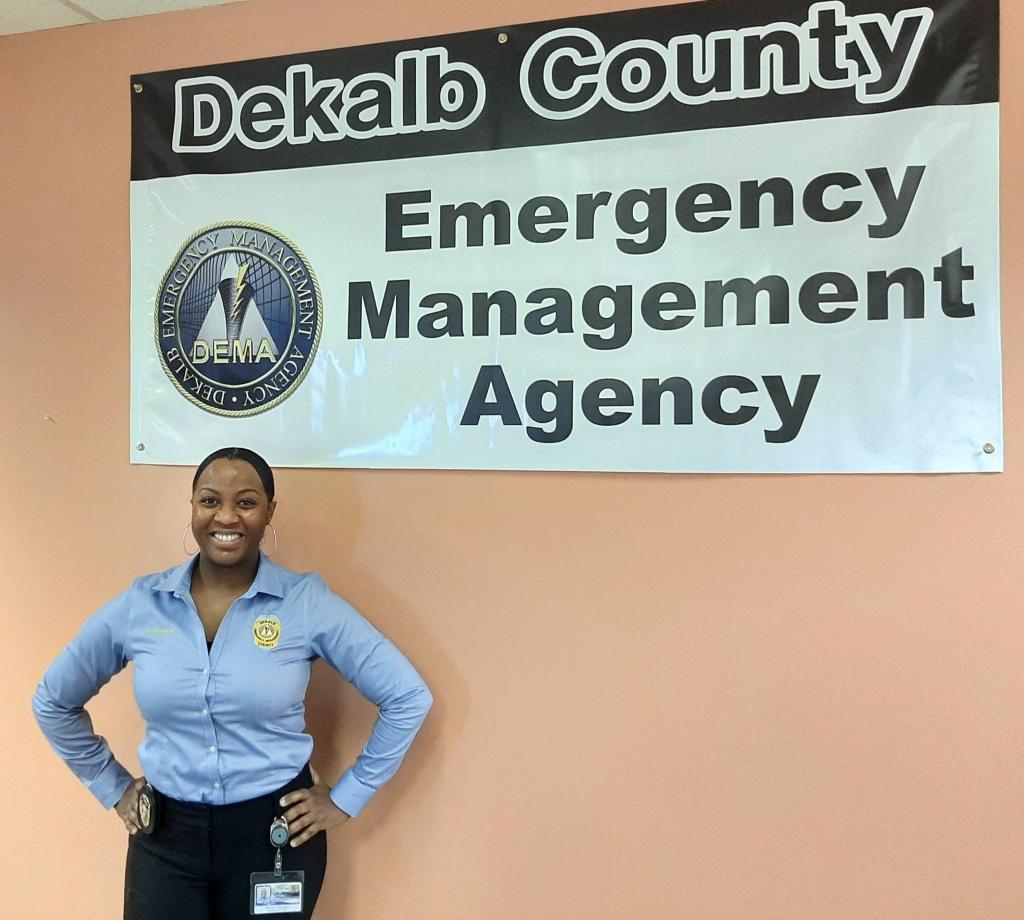 RENAE MCNEASE, EMERGENCY MANAGEMENT SPECIALIST
COMMUNITY OUTREACH PROGRAM MANAGER
Renae McNease is the newest addition to the DEMA team, coming onboard in January 2021. Renae serves as the Community Outreach Program Manager for DEMA. She is responsible for managing community interest in both personal and business preparedness, liasion with DeKalb County and City of Decatur schools for emergency prepaperdness, as well as the primary content creator for DEMA's social media pages. Her experience and background include 16 years as a 9-1-1 Communications Officer, and 8 years as an Emergency Management Specialist in the Air Force. Graduating from American Military University with a Bachelor of Science (B.S.) in Emergency and Disaster Management, she looks to combine her education and experience into a meaningful career with the county.
---
Find and Like Us on Social Media: @ DeKalbCountyEMA

| | | | | | | | | | | | | |
| --- | --- | --- | --- | --- | --- | --- | --- | --- | --- | --- | --- | --- |
| | | | | | | | | | | | | |