JOSEPH K. COX, DIRECTOR OF EMERGENCY MANAGEMENT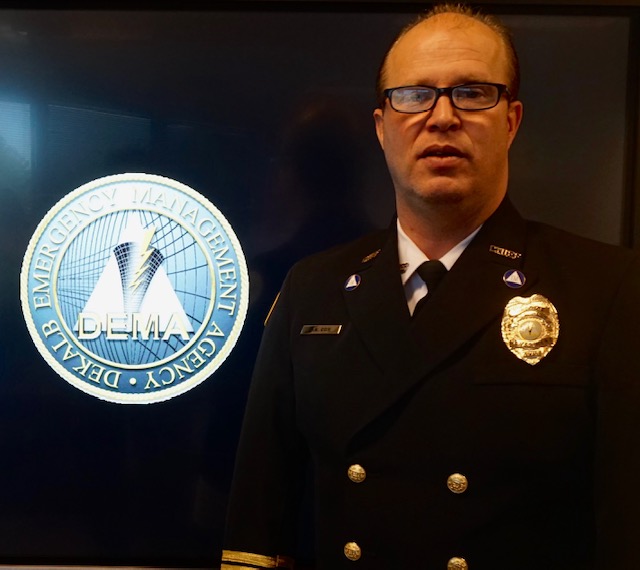 DeKalb County CEO Michael Thurmond appointed Joseph K. Cox, Director of DeKalb Emergency Management Agency (DEMA), effective July 25. He had been the acting DEMA director since February 2020. Previously, he served as DeKalb County Fire Marshal for three years. "Director Cox has served DeKalb County with distinction and dedication for nearly four years," said CEO Thurmond. "During these challenging times, we need his steady hand and extensive experience as we deal with COVID-19 and other threats to the health and safety of our citizens."
He has been responsible for activating, coordinating, and operating the 24-Hour DeKalb County Unified Command Emergency Operations Center, continuing since late February 2020, for the COVID 19 Pandemic impacting DeKalb County, as well as, the early summer Civil Unrest/Protest activity, multiple Tropical Storm(s) effecting DeKalb County during the late summer/early fall seasons, and most recently, supporting/assisting the DeKalb County Board of Election Early Voting and November 3rd Election Day activities. Furthermore, he has served on the DeKalb County Executive COVID 19 Task Force, assisting/supporting all daily preparedness, response, mitigation, and recovery efforts throughout DeKalb County since March. Additionally, the DeKalb County Emergency Management Team has coordinated, secured, and facilitated the distribution of almost 487,000 individual pieces of Personal Protective Equipment (PPE) and Sanitizing Materials, to #25 DeKalb County Front-Line Departments, #12 Incorporated Cities, #7 Assisted Living Facilities/Day Cares, as well as, MARTA, Stone Mountain Park, and DeKalb County School System. DEMA is also responsible for CodeRED and the FEMA IPAWs Mass Public Emergency Notification, of which has been implemented on #6 individual occasions in 2020 due to the COVID Pandemic and recent Civil Unrest/Protests in DeKalb County. This opt-in system provides rapid notification to residents and businesses about emergency events within DeKalb County. Director Cox manages a staff of six and an annual budget of nearly $1 million.
A native of North Carolina, Cox's experience includes a 20-year career in the fire service, specializing in emergency management, fire investigations, fire inspections, and fire prevention. Cox is an accredited ProBoard IAAI Certified Fire Investigator, NFPA Certified Fire Inspector II, IFSAC Fire Life Safety Educator, and GA Certified Firefighter. His education includes an Associate degree in Fire Science and a Bachelor's degree in Fire Administration from Columbia Southern University, as well as, Master's and Doctorate degree in Theology.
---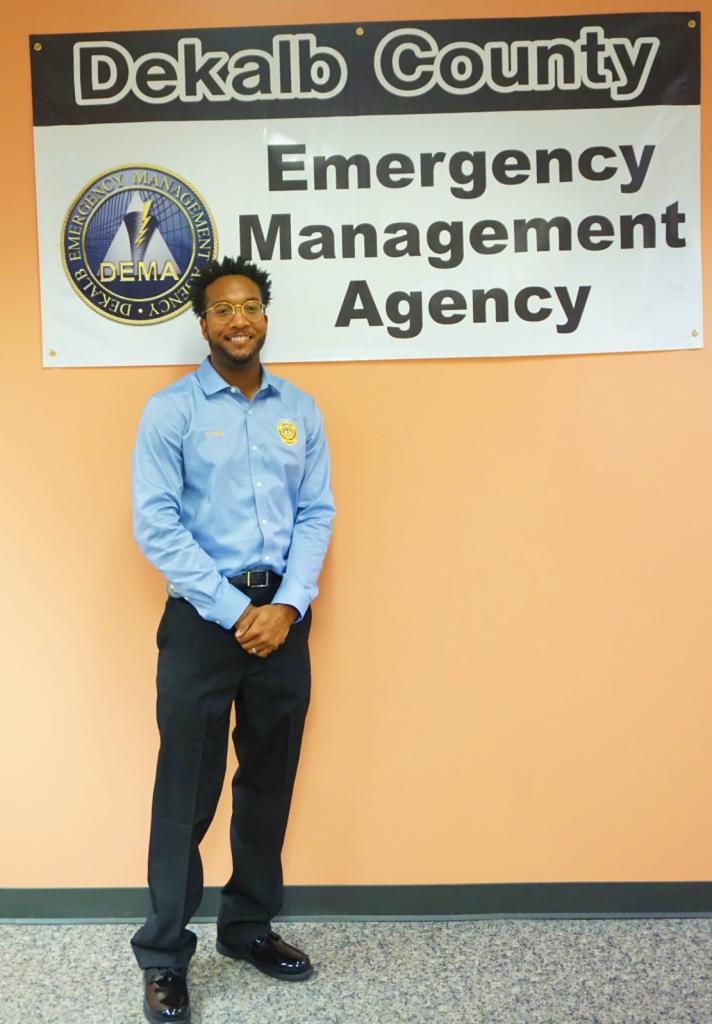 CARY HOLLIS, EMERGENCY MANAGEMENT SPECIALIST
EMERGENCY OPERATIONS CENTER MANAGER & OPERATIONS SECTION LEAD
Cary Hollis is the most senior DEMA employee having joined the team in 2017. He has vast experience in preparedness, response, and recovery to disasters. He has held a variety of roles and responsibilities in DEMA including Planner of the Georgia Safe Schools Initiative, Emergency Operations Center Manager, Mobile Command Vehicle operator and driver, WebEOC Platform Manager, Digital Engagement and Communications Liaison, and is currently charged with the development of the Drone Program.
Cary has interacted with a wide scope of community, corporate and county partners throughout all phases of emergency management by way of class instruction, community presentations, interpersonal and technical skill partnerships. His background and experience includes roles such as Public Health Communicable Disease & Emergency Preparedness Coordinator and GIS Technician prior to joining Dekalb County. Cary has an educational background that includes a B.A. in Homeland Security and Emergency Management from Savannah State University and a MPA (Master of Public Administration) from Capella University with focus on Public Affairs. Cary has gone on to earn his Georgia Certified Emergency Management designation from the state of Georgia in 2019 and is currently pursuing his International Certificated Emergency Manager Certification. His goal is to unite his knowledge of emergency management policy and public sector management to make impactful changes to the Emergency Management profession for years to come.
---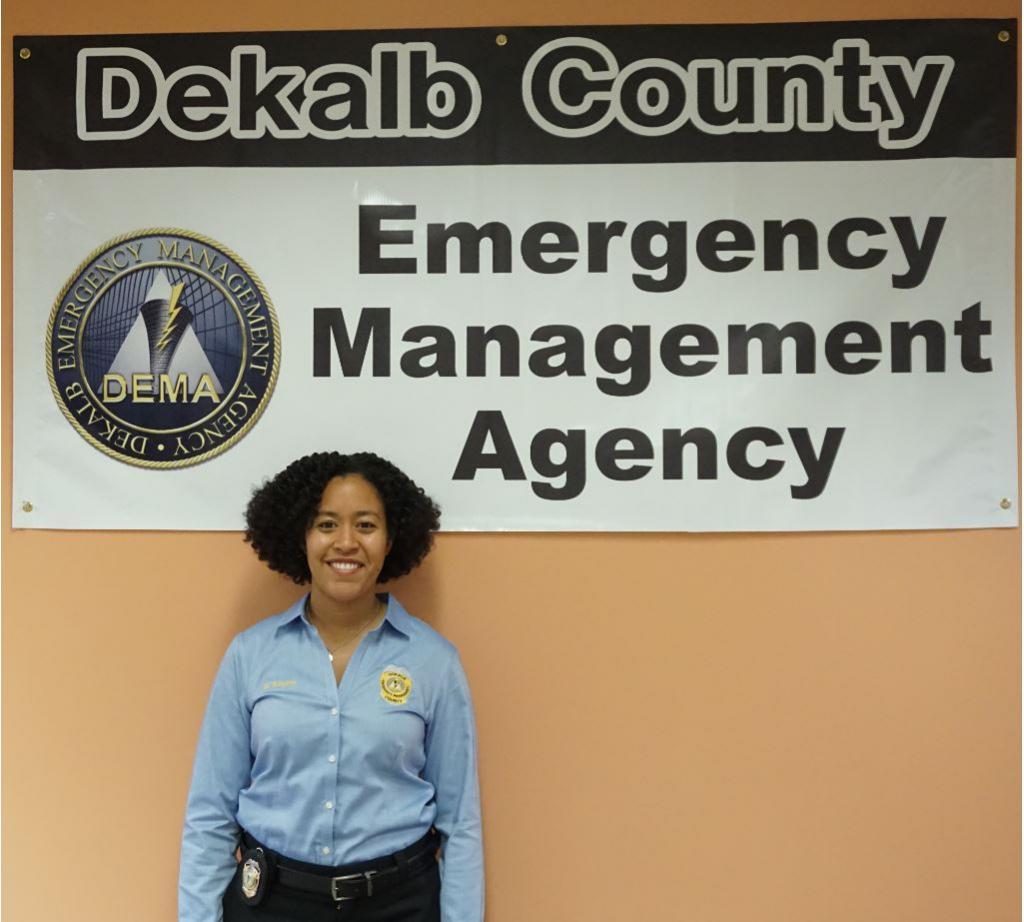 BREANNA ROGERS, EMERGENCY MANAGEMENT SPECIALIST
PLANNING SECTION LEAD
Breanna Rogers joined the DEMA team in February of 2019. She graduated with her Bachelor's degree in Interdisciplinary Social Sciences from Florida State University and is currently getting her Master's degree in Emergency Management. After graduating, she interned with the Florida Division of Emergency Management and Volunteer Florida. Her background in Emergency Management planning consists of work at the Federal, State, and private sector levels. Wanting more engagement with the community she decided to move to the county level where she began working with DEMA.
Her main responsibility consists of reviewing and maintaining county plans. Other responsibilities include managing the CodeRED/IPAWS platform, Public Assistance, Hazard Mitigation Project Assistance, Social Media Preparedness, and Budget & Finance work. During an active incident, when the Emergency Operations Center (EOC) is activated she is dialed in as the Planning Lead. Drafting Incident Action Plans (IAPs), Situation Reports (SITREPS), and weather briefings becomes her primary role in the Planning Lead position. Breanna's role is quite impactful as it is her job to maintain DEMA's operational and preparedness plans so that the agency will be ready to supply resources to county departments during a disaster. While at DEMA she hopes to, "learn as much as I can about the cultural and ethnic differences of each of DeKalb's unique jurisdictions in order to promote tailored and accessible preparedness plans that incorporate the necessities of each community."
---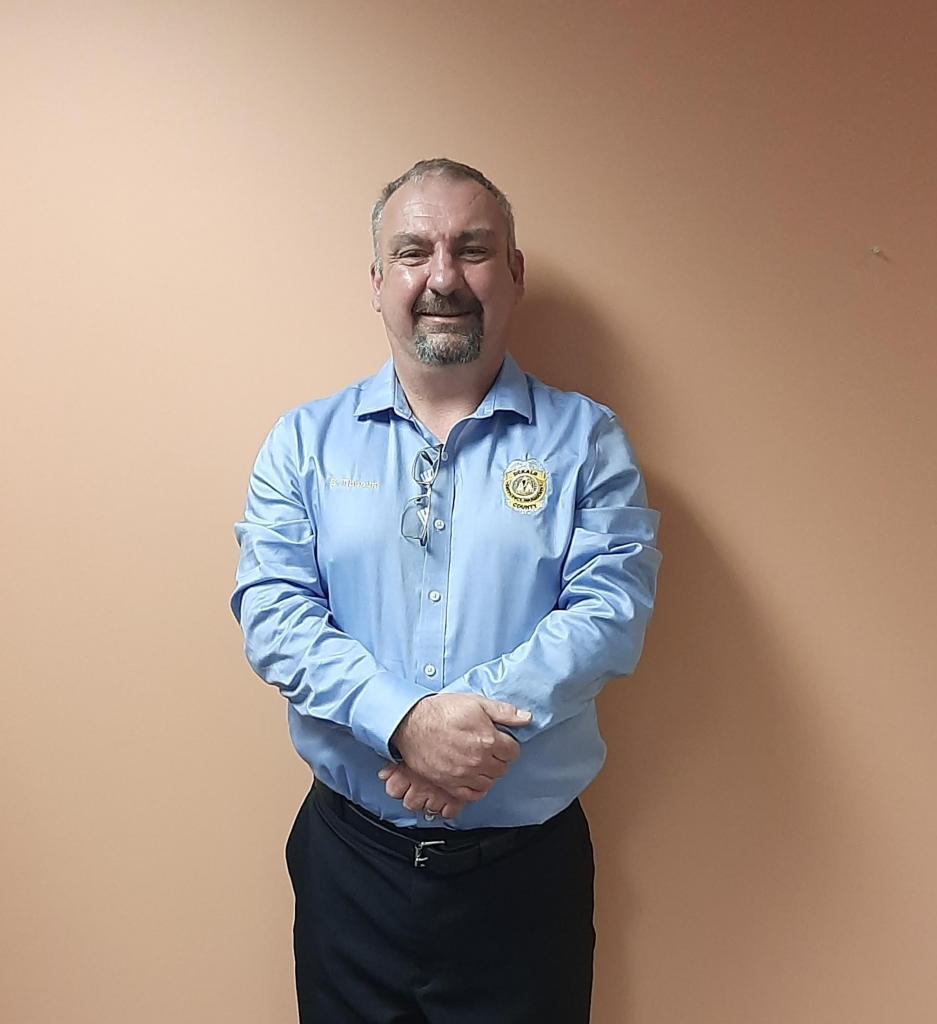 SCOTT TIBBETTS, EMERGENCY MANAGEMENT SPECIALIST
Scott Tibbetts is the Volunteer Coordinator with DEMA. Ensuring the team at DEMA is augmented with knowledgeable, well-trained, fully equipped volunteers has been Scott's undertaking since February of 2020. One of Scott's favorite quotes comes from Benjamin Franklin, "By failing to prepare, you are preparing to fail." Some goals Scott has set out to achieve within his career are to enhance community education and volunteer programming while developing knowledge and expertise in state and federal mitigation resources. Additionally, he hopes to support citizens in efforts to be proactive, making preparedness a constant state of mind resolving needs during an emergency rather than a reactive state of mind adding to the needs during an emergency. Scott manages the Community Emergency Response Team and the DeKalb County Fire Rescue Reserve volunteer programs.
---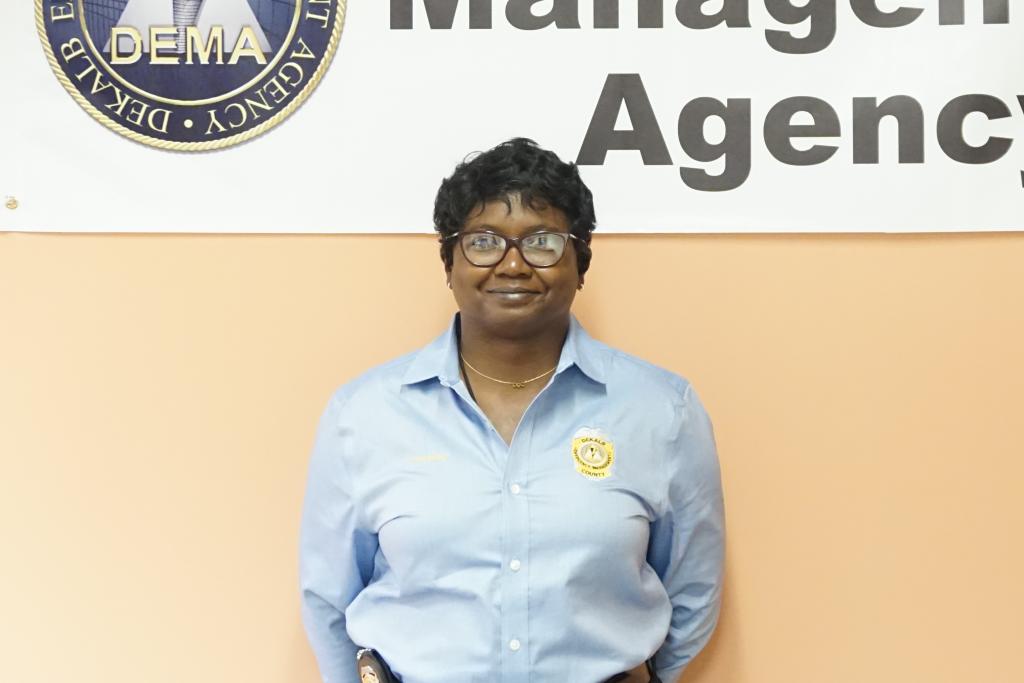 CAPTAIN YOLANDA HARKLEY, EMERGENCY MANAGEMENT SPECIALIST
LEPC CHAIRWOMAN AND SAFETY OFFICER
Yolanda Harkley is the longest tenured county employee within the DEMA team. Captain Harkley began her career with the DeKalb County Fire Department over 23 years ago. She recently expanded her career with the county, transferring to DEMA in 2020. She serves as the Local Emergency Planning Committee (LEPC) Coordinator and the Safety Officer with DEMA. Yolanda brings a treasure trove of knowledge, talent, and experience to DEMA and looks to promote more emergency preparedness within the community and stakeholders through awareness and training. Her future plans are to ensure each citizen is personally aware and prepared for any natural and man-made disaster that may affect our community. She believes that we should always do unto others as you wish them to do unto you.
---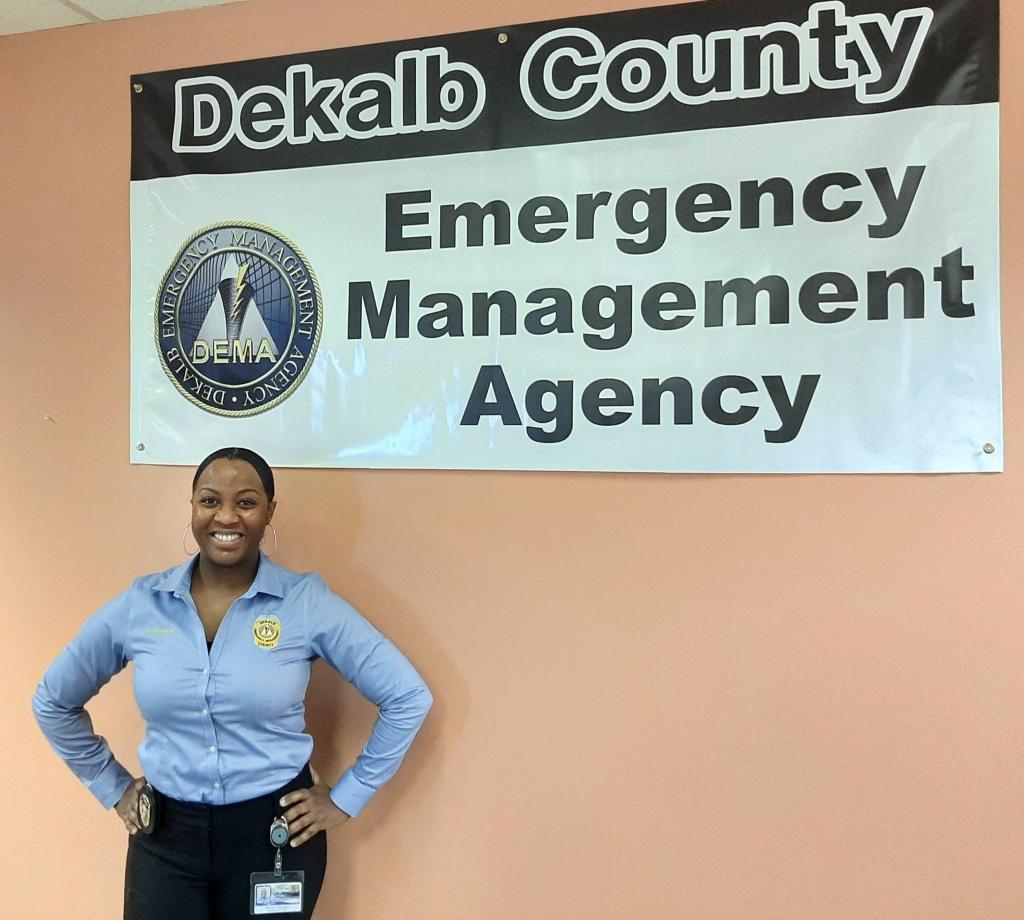 RENAE MCNEASE, EMERGENCY MANAGEMENT SPECIALIST
COMMUNITY OUTREACH PROGRAM MANAGER
Renae McNease is the newest addition to the DEMA team, coming onboard in January 2021. Renae serves as the Community Outreach Program Manager for DEMA. She is responsible for managing community interest in both personal and business preparedness, liasion with DeKalb County and City of Decatur schools for emergency prepaperdness, as well as the primary content creator for DEMA's social media pages. Her experience and background include 16 years as a 9-1-1 Communications Officer, and 8 years as an Emergency Management Specialist in the Air Force. Graduating from American Military University with a Bachelor of Science (B.S.) in Emergency and Disaster Management, she looks to combine her education and experience into a meaningful career with the county.
---
Find and Like Us on Social Media: @ DeKalbCountyEMA

| | | | | | | | | | | | | |
| --- | --- | --- | --- | --- | --- | --- | --- | --- | --- | --- | --- | --- |
| | | | | | | | | | | | | |