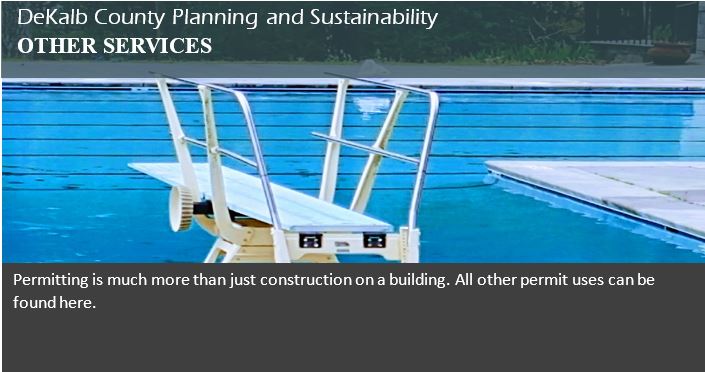 Sign

From Wall Signs to Ground signs to Monument signs. We do not permit any type of residential signs (except neighborhood entrances)
Click HERE to access Sign Permit Packet.
Tent

Tents can be used for a variety of purposes from a promotional event to a carnival to sale of seasonal goods. Any time a tent is being used in a commercial capacity or on a commercial property, a permit is required to ensure everyone's safety.
Click

HERE

to view Tent Guidelines

City Reviews

If your project falls within the city limits of one of DeKalb's 12 incorporated cities, then you will not do your primary permitting through us. Instead, you will go to your city's permitting office and if they use and/or need any DeKalb services like Fire Marshal or Watershed, then the city will provide you with a routing sheet. You will need to bring that as well as your plans (1 copy for Watershed, 3 for Fire Marshal)

Solar

If you are trying to go green by adding solar to your building, there are certain regulations that must be abided by. Click

HERE

to learn more about permitting for Solar.

Trailers
School Trailer, Construction Trailer and modular offices and any other type of trailers fall under commercial permitting. Click HERE to view TRAILER Guides.
Pools
Whether it is a community pool or one in your back yard, above ground or in ground, all pools require permits and inspections.
All pool permits need the following 3 Items:
• Building Permit Application: Click HERE to obtain a Building Permit Application.
• Site Plan: A site plan is prepared by an engineer or surveyor registered in the state of Georgia. A site plan or survey may be up to ten years old, as long as the survey reflects all current improvements on the property and changes to the flood map. The site plan should contain the location of building site, property lines, all setbacks, the location of the proposed addition, erosion control measures, tree locations, flood plain, state waters, easements, and location of dumpster and port-o-let, as applicable.
• Board of Health Approval: You will need Board of Health approval, appropriate fencing, and an electrical permit. To reach the Board of Health, call 404-508-7900
****Commercial Properties will also need a Land Disturbance Permit. For information about obtaining a LDPs, Click Here.
Cell Tower
Replacing/ Modifying
If modifying an existing tower, the cost is a minimum of $245 and you will have to provide an application, specs, special inspection schedule and a location plan
New Construction
For all new construction towers, the cost is a minimum of $545 and includes a Special Administrative Permit.
Retaining Wall

All Retaining walls that are 4 feet or higher and is not a part of the primary building foundation requires a separate permit. Click HERE to view Retaining Wall Guidelines.