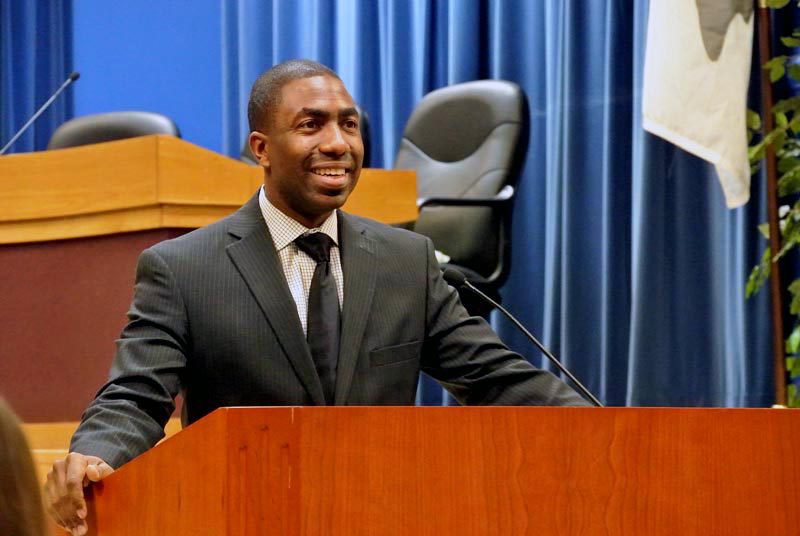 DECATUR, GA. – Citizens, business leaders, and other community stakeholders are invited to a review of 2015 and the outlook for 2016 during Interim CEO Lee May's State of the County Address.   The address is March 10 at 7 p.m. at the Porter Sanford III Performing Arts Center, 3181 Rainbow Dr., Decatur, GA 30034.   Doors open at 6:30.   This event is free and open to the public, and no registration is required.    WSB – TV News Anchor Sophia Choi will serve as Mistress of Ceremonies.
Interim CEO May addressed the business community during a luncheon earlier   in the day , hosted by the Council for Quality Growth and DeKalb Chamber of Commerce.   Topics included details on the 2016 Special Purpose Local Option Sales Tax, a managed competition process for the delivery of government services, revitalization of the Memorial Drive corridor, a reorganized Keep DeKalb Beautiful Department and a new pilot program for free afterschool care for middle school students.
"I am excited to share with the community my initiatives for the remainder of the year, and discuss the numerous accomplishments and successes of 2015.   DeKalb County is moving in the right direction and I am pleased to share my vision for the future with residents and stakeholders," said Interim CEO May.
Known for its business and education hub, growing international community and natural wonders, DeKalb County Government is administered by Interim Chief Executive Officer Lee May and legislative policy is set by a seven-member Board of Commissioners .
Stay informed with news from DeKalb County by signing up at www.onedekalb.com or send a text message with the word ONEDEKALB to 22828 (message and data rates may apply).
###