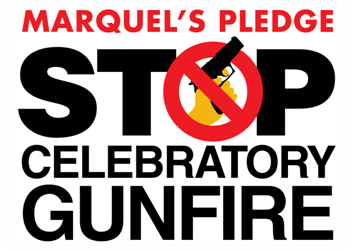 The pledge is a community campaign to reduce celebratory gunfire in DeKalb County and throughout Georgia. This initiative was conceived following the death of Marquel Peters on New Year's Day 2010. As he sat next to his mother, four-year-old Marquel Peters was struck and killed in church by a bullet believed to have been fired by a New Year's Eve reveler. The stray bullet came through the roof of the sanctuary of the church and struck Marquel in the top of his head.
Thanks to all the citizens of DeKalb who took the pledge to stop celebratory gunfire. DeKalb County's 911 calls reporting celebratory gun fire were down this year.
Anyone who wants to take the pledge can click here.