Adopt-a-Programs
Adopt-a-Programs give organizations, groups, and individuals the opportunity to help their local community environment by collecting litter and beautifying streets in their neighborhood. These countywide programs allow the "You're the Solution to Litter Pollution" motto to spark awareness among citizens of all ages. Any portion of the county's public right-of-way is eligible, including traffic islands, medians, county-owned lots and MARTA stops. Highly motivated, environmentally conscious individuals work tirelessly to ensure that the County is clean and upholding its reputation as one of the nation's "Best Nature-Friendly Places to Live."
KDB will furnish or provide one 12 X 18 sign identifying participants at the adopted location, orange trash bags, gloves, litter grabbers, safety vests, information on safety precautions, and the disposal of all orange trash bags upon completion of a clean up. In return for usage of supplies, KDB requires Adopt-a-Program volunteers to submit a cleanup report after each event. KDB will review all adopted areas annually to ensure compliance with agreements.

Adopt-a-Road
Litter reduction and prevention program that enables citizens to show their pride in DeKalb County, and reduce the amount of litter and illegal signage along at least one mile of the public right of way.

Adopt-a-Spot
Litter reduction program that enables citizens to reduce the amount of litter and illegal signage in areas less than one mile long.

Adopt-a-Stop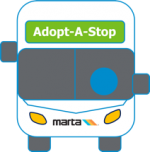 Bus stop litter reduction and prevention program aimed at attracting public involvement from residential and community organizations to maintain a litter-free DeKalb at all of our MARTA bus stops. Adoption opportunities are specifically for locations that do not have shelters, as they are maintained through the Metropolitan Atlanta Rapid Transit Authority (MARTA). By adopting a MARTA bus stop, an organization commits to removing the litter and trash from their designated adoption area as well as preserving its aesthetic condition.

Your Responsibilities
Adopt-a-Program participants are expected to:
Facilitate cleanups on a quarterly basis (4 cleanups per year).
Submit a cleanup report after each cleanup.
Follow outlined safety guidelines.


How To Join
Contact Us to receive a paper application.

Why Adopt?
It's an easy way for groups to help the community.
It makes a visible impact on your local environment.
It helps build community and group pride.
It reduces litter cleanup costs and saves taxpayers money.


Supply Request
Supplies are provided upon availability and with advance notice. We are unable to accept walk-in requests. After receipt of your request, a KDB staff member will contact you to schedule a date and time to visit our office.
Supply Collection Days: Monday - Friday, 9 a.m. - 11:30 a.m., 1:30 p.m. - 4 p.m.
Supply Return Days: Monday & Tuesday, 9 a.m. - 11:30 a.m., 1:30 p.m. - 4 p.m.

Click here for a Community Cleanup Supply Request Form
After your cleanup, please submit a Clean-Up Report.
We are a Certified Keep America Beautiful Affiliate and a proud Member of Keep Georgia Beautiful Foundation