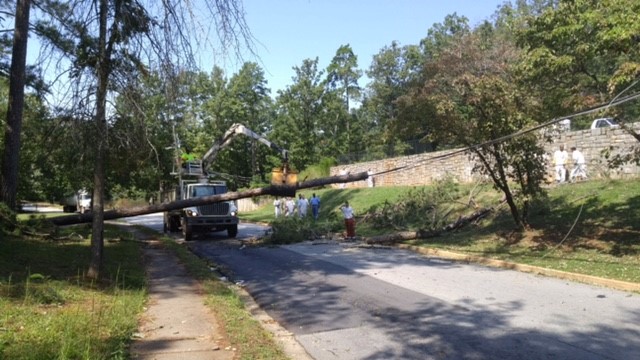 Updated Sept. 18, 10:30 a.m.
Do you have damage to your home or business as a result of Irma?
Click this link to fill out a damage assessment.
Safety Tips
When the power goes out, food can spoil. Learn what to keep and what to throw away.
Stay away from downed wires and assume all wires are live. Click to learn more.
Road Closures
All DeKalb County roads are open.
Debris Collection
Sanitation will collect debris on your normal collection day.

Branches and limbs must be trimmed and cut to a maximum of four feet, stacked neatly at the curb or placed in an approved receptacle. Trees must be cut as small as possible, so that each piece does not exceed a maximum of 50 pounds. Tree limbs that are cut by professional or hired contractors should not be left at the curb for collection by the Sanitation Division.
All yard trimmings must be properly prepared for collection and placed in approved 20- to 40-gallon receptacles. Approved receptacles include durable metal and plastic containers, durable biodegradable paper bags and must have two durable handles. Paper bags should be folded at the top to minimize rain deteriorating the paper bags. Yard trimmings placed in plastic bags will not be collected.
Do not place debris in storm drains, creeks or culverts. Clogging these stormwater systems can result in local flooding.
Individual Assistance
If you need assistance with crisis cleanup:
From now through September 30, call the number below for help with home cleanup. As they are able, reputable and vetted relief agencies may assist you and your neighbors cut fallen trees, remove drywall, insulation, flooring, furniture, appliances, tarp roofs, etc. All services are free, but service is not guaranteed due to the overwhelming need.

Importantly, this hotline CANNOT assist with social services such as food, clothing, shelter, insurance, or questions about FEMA registration. Volunteers work free of charge and provide the tools and equipment necessary to complete the work. To request help: CALL: 1-800-451-1954.
If you need shelter assistance (temporary shelter, not Red Cross run, for residents to recharge phones, take a break, have relief from heat, but will not be housing):
United way of Atlanta: 404-614-1000 or 211 or 211online.unitedwayatlanta.org
Peace Baptist Church: 347-309-7686
Rainbow Park Baptist Church: 404-288-1910
Fairfield Baptist Church: 770-482-7660
Clarkston First Baptist: 404-292-5686
New Life Church: 770-570-0354
If you need food assistance:
United Way of Atlanta: 404-614-1000 or 211 or 211online.unitedwayatlanta.org
Atlanta Community Food Bank : 404-435-0560
Berean Christian Church Outreach Ministry (must have GA license and most current power bill, 9 am-12 pm, 2 pm-5pm): 770-593-4421
If you need clothing assistance:
Berean Christian Church Outreach Ministry (must have GA license and most current power bill, 9 am-12 pm, 2 pm-5pm): 770-593-4421
News
Sept. 15: How to Spot a Storm-Damaged Tree
Sept. 15: More than 100 Roads Reopened in DeKalb
Sept. 14: DeKalb Crews Make Progress Clearing Roads and Debris after Irma
Sept. 13: Irma Hits DeKalb County Hard, Local State of Emergency Declared
Sept. 12: DeKalb Employees to Report on Wednesday
​Sept. 12: DeKalb Health Officials Warn Residents of Spoiled Food Hazards
Sept. 12: Georgia Power Working to Restore Service in DeKalb
Sept. 12: DeKalb Storm Debris Pickup to Begin Sept. 13
Sept. 12: DeKalb Offices, Facilities Remain Closed Tuesday
Sept. 11: Residents Urged to Avoid Calling 911 for Non-life-threatening Incidents
Sept. 11: DeKalb Sanitation to Resume Service Wednesday
Sept. 10: DeKalb Sanitation Suspends Collection Service Due to Irma
Sept. 10: DeKalb County Offices, Facilities to Close During Hurricane Irma
Sept. 10: Updated Hurricane Irma Preparation Tips
Sept. 8: Hurricane Irma Preparation Tips for DeKalb County, Ga.
Sept. 8: DeKalb County to Provide Update on Hurrican Irma Preparation (Watch live at 2:30 p.m. on Facebook or DCTV Comcast Channel 23)
Sept. 6: DeKalb Prepares for Potential Impacts from Hurricane Irma


Sign up for CodeRED for important alerts.
Follow @ItsInDeKalb on Twitter
Follow @DeKalbCountyEMA on Twitter
Phone Numbers
Life-threatening emergencies: 911
Non-life-threatening public safety issues: 404- 294-2911
Report sewer spills or water outages (DeKalb Watershed): 770-270-6243
Power outages (Georgia Power): 1-888-891-0938
Natural gas (Atlanta Gas Light, all providers): 1-877-427-4321
Price gouging (Georgia Consumer Protection Unit): 1-800-869-1123