BE INFORMED | MAKE A PLAN | ASSEMBLE A KIT | MAINTAIN YOUR PLAN
Disaster can strike at any moment and without notice. Learn to cope with disasters by preparing in advance. Prepare by following these steps:
BE INFORMED
Find out if your community has a response, evacuation and emergency plan in place. Know the specific hazards that threaten your community. One such tool you can use to learn the hazards in your community is to review DeKalb County's Threat and Risk Assessment plan. Click the link here to find out more. Register for DeKalb County's CodeRED notification system. Also, get involved with informing others by using the Crisis Track reporting database. Finally, check out the DeKalb County Roads and Drainage website for information on flood risk zones, floodways and interactive maps regarding flood plain designation.
MAKE A PLAN
It is important to plan ahead in order for you and the family to be as calm as possible and better prepared in the event of an emergency. Discuss emergency preparedness with family members often and encourage one another to stay abreast regarding events in the community.  Choose an out-of-town contact person, whether that be a friend or family member, to call during an emergency. Devise a plan of where to meet in the event of an emergency. Complete a family communication plan, which includes phone numbers, meeting locations, emergency services and important personal information. Discuss and practice escape routes, in case there is a fire or you need to be evacuated at a moment's notice. Draw a floor plan of your home, making sure you label possible escape routes, location of supply kits, location of utility shut off points, ladders, smoke alarms and fire extinguishers. Ensure there is a plan in place for people with disabilities, seniors and pets.
ASSEMBLE A KIT
Emergency kit contents: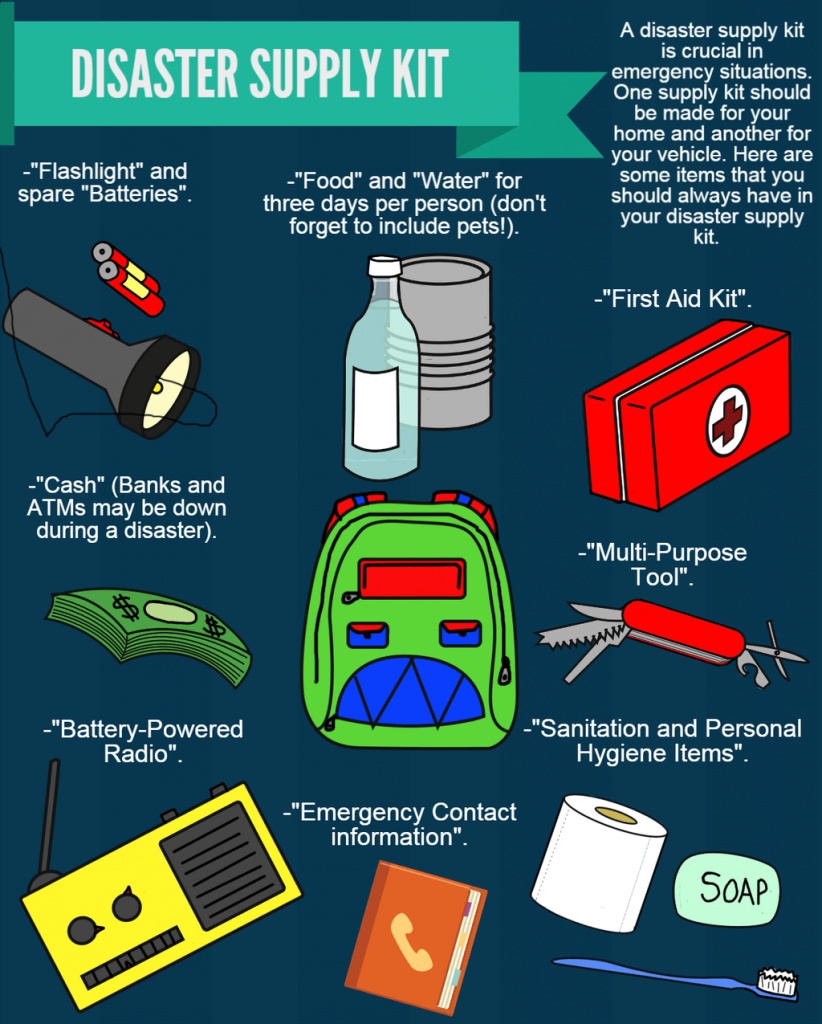 Emergencies can happen without warning, so have an emergency kit prepared. A list of suggested items can be found on the ready.gov website: http://bit.ly/FamilyPreparednessKit
MAINTAIN YOUR PLAN
At a minimum, review your plan every six months and ensure your family knows what to do as well. Practice any fire drills or evacuation drills on a regular basis. Restock any food or water supplies, checking expiration dates. Test smoke alarms, be aware of recharge dates on fire extinguishers and check battery expiration dates. Ensure phone numbers are up-to-date on all communications plans and important numbers list.

BUSINESS PREPAREDNESS PLANNING
Businesses are an essential part of how quickly a community can recover after a disaster. Learn how to protect your business before disaster strikes.
Know what risks threaten your property by speaking with your local building official, city engineer, or planning administrator.
See FEMA's guide, Protect Business Records and Inventory
Securely anchor large equipment, bookcases, file cabinets, propane tanks, etc.
Install latches on drawers and cabinet doors.
Use flexible connections on gas and water lines.
Develop a plan and train your employees on what to do if a disaster were to occur.
PREPARING FOR ALL OF TYPES OF EMERGENCIES
Flooding
Heat
Hurricanes
Pandemic Influenza
Severe Thunderstorms
Tornadoes
Tropical Storms
Wildfires
Winter Storms
For additional types of emergencies visit the American Red Cross.
EVACUATION
In general there are two types of evacuation notices, voluntary and mandatory. A voluntary evacuation is a warning to persons within a designated area that a threat to life or property exists or is likely to exist in the immediate future; you are not required to evacuate although it is recommended. A mandatory evacuation is a warning to persons within the designated area that an imminent threat to life and property exists.
The amount of time you have to prepare for an evacuation may depend on the hazard. If you feel you are at risk of being evacuated, consider organizing the following for a Grab-and-Go kit:
Have copies of important personal papers, such as deed to your house, proof of insurance, medical records, passports, social security cards, photos. Also have your driver's license and a list of personal contacts.
Critical medical items, such as prescriptions
Essential valuables
Clothing, footwear and toiletries
Cell phone & charger
Food and water for at least 3 days
Flashlights and batteries
Child care items, such as diapers, formula, medicine
Pet care items, such as carrier case, food, etc.
Cash on hand, credit cards, checkbook, as well as keys
Blankets (2 per person)
Additional considerations prior to an evacuation order:
Identify an out of town person you will contact in the event of an evacuation.
Fill your vehicle with gas and keep your vehicle maintained.
Know where your utility shutoffs are located and learn how to safely shut off all utilities.
If you live in an area prone to flooding, consider having sandbag materials on hand.
Stay informed with Emergency Alerts by signing up for the CodeRED Notification System.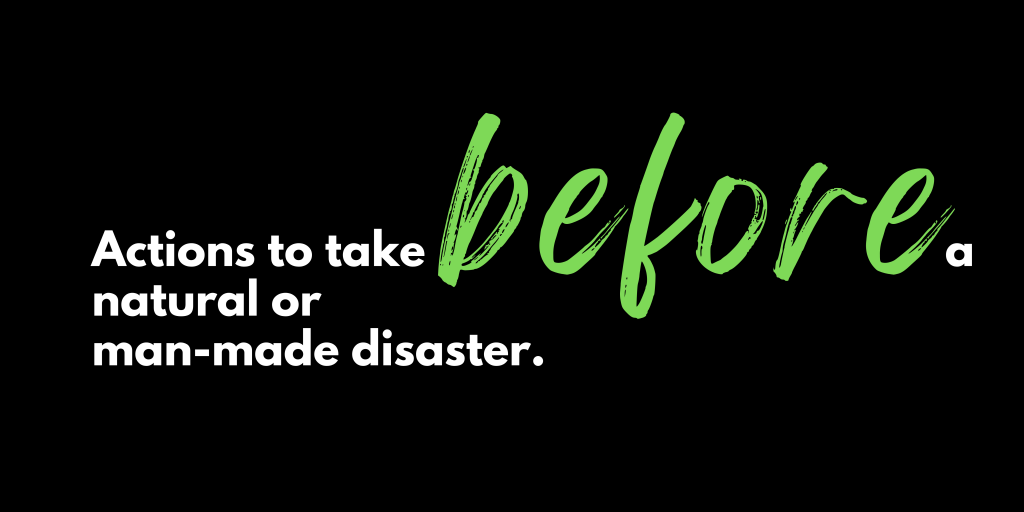 ACTION CHECKLIST – WHAT TO DO BEFORE A DISASTER
Utilities
Know when and how to turn off water, gas, and electricity to your home. Make sure your family members or caregivers also know this information. If you need specific tools to turn off your gas or water, make sure they are easily accessible and located near the valves. Only turn off utilities if you suspect damage or leaks.
Fire Extinguisher
Check and make sure your fire extinguisher is up to date and easily accessible. Recharge or replace fire extinguisher as directed on the manufacturer's instructions.
Smoke Alarm & Carbon Monoxide
Test your smoke alarms and carbon monoxide devices once a month, replacing batteries at least once a year or as needed. Keep devices clean of dust or cobwebs and never paint the alarms. Smoke alarms should be replaced every 10 years.
Insurance Coverage
Homeowners insurance generally doesn't cover flood damage. Talk with your insurance agent to ensure you have adequate coverage. Ensure you are current with your policy and understand your risks.
First Aid/ CPR & AED
Take first aid or CPR/ AED classes through the American Red Cross. 
SEVERE WEATHER
Severe weather can strike at any time, and you should be prepared for whatever it may bring. No matter the type of weather, having a plan and multiple ways of getting the warning is crucial to protect you and your family. DeKalb County does not have an outdoor siren system for severe weather, though some of our cities do. The best way you can receive warnings issued by our National Weather Service Office in Peachtree City/Atlanta is with a NOAA Weather Radio, or through our CodeRED emergency notification system. For more on preparedness, please visit our preparedness page. 
Resource Links
Below are some informative links for information on specific weather hazards for our area:

National Weather Service Peachtree City/Atlanta
(Our local weather office that issues weather products for DeKalb County)
Flooding:
National Weather Service Local Flood Gauges
National Weather Service Flood Safety
Centers for Disease Control Flood Safety
FEMA Flood Safety
Floodsmart National Flood Insurance Program (FEMA)
Georgia Flood Mapping
DeKalb County Floodplain Management

Winter Weather:
National Weather Service Winter Weather Safety
FEMA Winter Weather and Extreme Cold Safety
Centers for Disease Control Winter Weather Safety
AAA Winter Weather Driving Tips
Severe Thunderstorms and Lightning:
National Weather Service Severe Thunderstorm Safety
FEMA Severe Thunderstorms and Lightning Safety
Centers for Disease Control Lightning Safety and Statistics

Tornadoes:
National Weather Service Tornado Safety
FEMA Tornado Safety
Centers for Disease Control Tornado Safety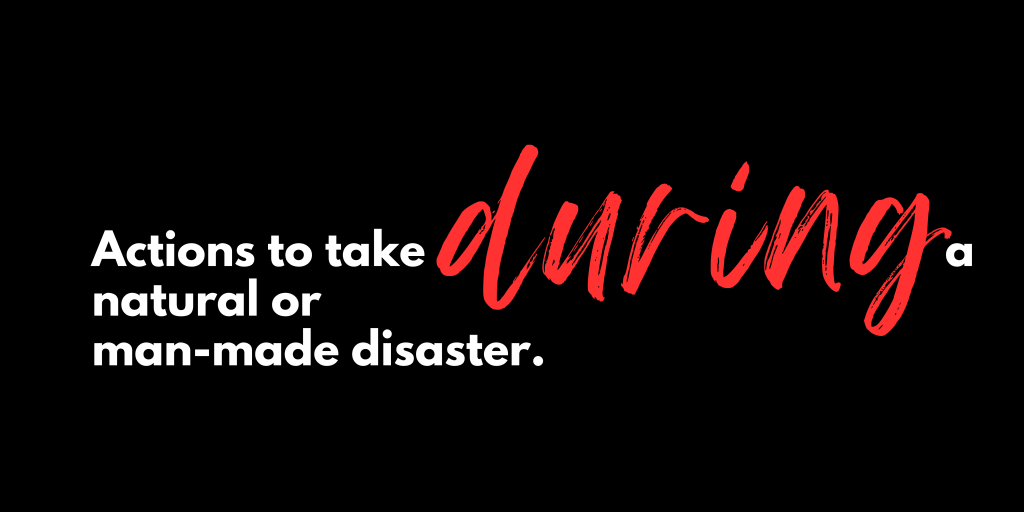 Although we do not expect or anticipate being caught in a natural or man-made disaster; we should bear some basic things in mind. If we find ourselves during a disaster, having a plan and knowing what to do could make all the difference for you and your loved ones. Here are four simple ways to ensure you, your family, and your business are as safe as possible during a disaster.
If you have not been ordered to evacuate, stay in a safe area or shelter during a natural disaster. In your home, a safe area may be a ground floor interior room, closet or bathroom. Be sure you have access to your survival kit in case you are in an emergency event that lasts several days.
Listen to your portable radio for important updates and instructions from local authorities. Remember to have a battery-powered radio in your survival kit. Some radios are now equipped with multiple power sources, such as batteries, solar panels and a hand crank.
If power is lost, use a generator with caution. Make sure conditions are safe before operating a portable generator. Only operate it outside — away from windows, doors or vents. Follow all manufacturer's instructions.
Stay in your safe area and do not drive until the danger has passed. Resist the temptation to check on your property until you are sure it is safe to do so.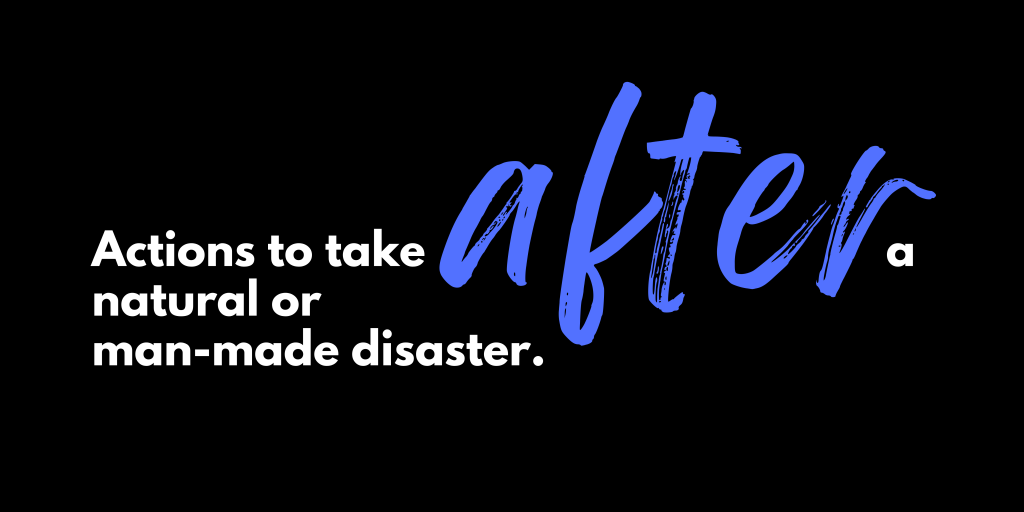 The storm might be over, but that doesn't mean the danger is. Keep your loved ones safe after the storm by following our safety tips.
STAY OUT OF FLOODWATER.
Always follow warnings about flooded roads.
Don't drive in flooded areas—cars or other vehicles won't protect you from floodwaters. They can be swept away or may stall in moving water.
If you have to be in or near floodwater, wear a life jacket—especially if the water is rising.
Wash your hands with soap and water if you have been in floodwater. If you don't have soap or water, use alcohol-based wipes or sanitizer. Floodwater can contain many things that may harm health, including germs, dangerous chemicals, human and livestock waste, wild or stray animals, downed power lines, and other contaminants that can make you sick.
Learn more on how to stay safe after a flood.
NEVER USE A WET ELECTRICAL DEVICE.
IF THE POWER IS OUT, USE FLASHLIGHTS INSTEAD OF CANDLES.
PREVENT CARBON MONOXIDE POISONING. 
Fuel-burning equipment creates carbon monoxide (CO). This can include equipment like generators, pressure washers, charcoal grills and camp stoves. You can't smell or see carbon monoxide, but if it builds up in your home, it can cause sudden illness and death.
Never use portable gasoline or coal-burning equipment or camp stoves inside your home, basement, or garage. Keep it outside and at least 20 feet from any window, door or vent.
Use a battery-operated or battery backup CO detector any time you use a generator or anything else that burns fuel.
If you have a CO detector and it starts beeping, leave your home right away and call 911.
Check out Carbon Monoxide Poisoning After a Disaster for more information.
BE CAREFUL NEAR DAMAGED BUILDING. 
Do not enter a damaged building until local authorities determine it is safe. Hurricanes can damage buildings and make them unsafe.
Leave your home or building if you hear shifting or unusual noises. Strange noises could mean the building about to fall.
STAY AWAY FROM LINES.
Watch out for fallen power lines that may be hanging overhead.
Stay clear of fallen power lines. Call the electric company to report them.
Learn more on how to protect yourself from electrical hazards after a disaster.
PROTECT YOURSELF FROM ANIMALS AND PESTS.
DRINK SAFE WATER. EAT SAFE FOOD. 
Throw away food that may have come in contact with flood or storm water. Unsafe food can make you sick even if it looks, smells, and tastes normal. Throw away perishable foods that have not been refrigerated properly due to power outages; also discard foods with an unusual odor, color, or texture. When in doubt, throw it out.
Listen to reports from local officials for advice on water precautions in your home. Do not use water you suspect or have been told is contaminated to make baby formula, make ice, brush your teeth, wash and prepare food, wash your hands, or wash dishes.
Bottled, boiled, or treated water are safe for drinking, cooking, and personal hygiene. Your state, tribal, local, or territorial health department can make specific recommendations for boiling or treating water in your area.
Learn more on how to keep food and water safe after a disaster.
WASH YOUR HANDS. 
Good basic personal hygiene and handwashing are critical to help prevent the spread of illness and disease. Clean, safe running water is essential for proper hygiene and handwashing. Hygiene is especially important after an emergency like a hurricane, but finding clean, safe running water can sometimes be hard.
TAKE CARE OF ANY WOUNDS OR INJURIES TO PREVENT INFECTION. 
The risk for injury during and after a hurricane and other natural disasters is high.
CLEAN UP YOUR HOME SAFELY. 
Take steps to protect yourself and your loved ones during cleanup after a hurricane.
TAKE CARE OF YOUR EMOTIONAL HEALTH. 
During and after a hurricane, it is natural to experience different and strong emotions. Coping with these feelings and getting help when you need it will help you, your family, and your community recover from a disaster.