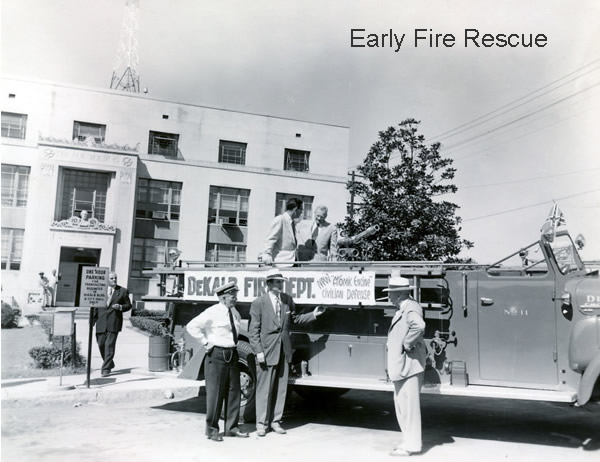 The legacy of fire protection in DeKalb County began with a single firefighter. In 1934, J.V. Draughon in Nashville, TN, offered DeKalb's citizens fire suppression for just $18 per quarter or $72 per year. Three years later in 1937, the county bought Draughon's operation for $5,500 and created the DeKalb Fire Department. The acquisition included the station on North Decatur Road, a stove, four beds and six-cylinder fire engine with a 250-gallon tank mounted on a Federal chassis.
The alarm system in those days consisted of a rat trap rigged to a light switch. In an emergency, the station number was dialed, which sprang the trap, turning the lights on, letting the crew know they were needed.
Starting pay for a firefighter was about $140 a month. Shifts were 24 hours on and 24 hours off, vacation was taken between May and September, and every 16 shifts firefighters received a paid day off, called a "Candler day" (now called a "liberty day"). Initially, there was no specific work uniform, and turnout gear consisted of a rubber raincoat, fisherman-style rubber bonnet and rubber boots.

In 1941, the department bought its first brand new engine - a Pirsch pumper. Though the engine has since been retired, it is still used for displays and parades, and even holds the record for oldest working apparatus in Atlanta.
As both the county and the department grew, the need for another station arose. In 1947, County Commissioner Scott Candler created the Brookhaven Fire Tax District. It would take about two years to raise enough money to build, staff and equip the station. However, the Brookhaven Express opened the door to building seven more stations in the next five years: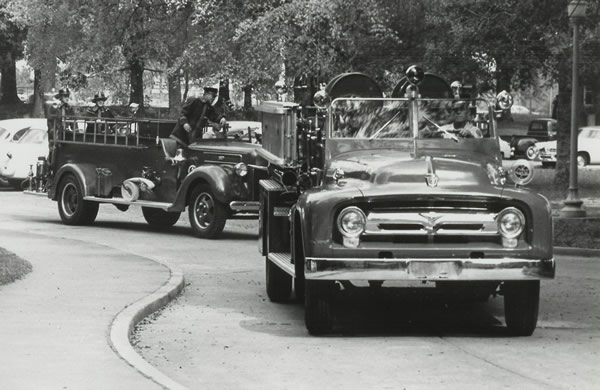 Station #3 : Avondale Estates
Station #4: Chamblee
Station #5: Tucker
Station #6: McAfee Road (Now Station #26)
Station #7: off Glenwood Road
Station #8: at Briarcliff and Lavista Roads (moved to Clairmont Road)
Station #9: Charles L. McClarty Fire Equipment Building (moved to North Druid Hills)
Methods of communication and dispatch were still primitive by today's standards. Headquarters was at Station #1, and each station had its own fire phone. Citizens directly called the station closest to them. After an emergency call came in, each station would report the call to headquarters along with any requests for additional assistance. While the rest of the crew responded to the call, one firefighter stayed at the station in case any other calls were received. The chief carried the only radio, which operated on a police band. If he needed to call for additional units, he would notify police dispatch to relay the message to headquarters, who would then call the appropriate station to respond.