Smoke Testing The Priority Area Assessment and Rehabilitation Program (PASARP) is required to be in compliance with the Consent Decree as outlined in the Clean Water Act settlement. This is the largest assessment and rehabilitation initiative within Consent Decree program. The program is focused on the priority areas of the county's sanitary sewer collection system.
The program has two stages:
Assessment
Rehabilitation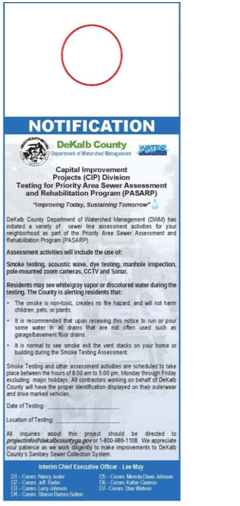 The above notification is used to alert affected residents when smoke testing is occurring in their neighborhood. These notices are distributed at least 48 hours prior to the testing.
Testing is scheduled to take place between 8:00 a.m. – 5:00 p.m., Monday-Friday (excluding major holidays)
Authorized contractors will
Have the proper identification
Drive marked vehicles
Assessment Contractors will distribute door hangers 72-hours prior to starting work in your area
Prior to construction activities additional information will be distributed
QUESTIONS?
Email: projectinfo@dekalbcountyga.gov
Phone: 1-800-986-1108
Monday-Friday, 8:30 a.m. – 5:00 p.m.