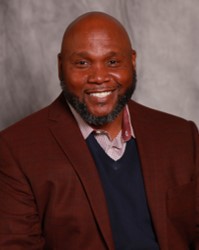 Lynwood L. Blackmon II is the DeKalb County Cooperative Extension director. Since October 1999, Blackmon has been responsible for developing and coordinating efforts in response to citizens' needs and interests in horticulture, agriculture and natural resources through outreach education that enhances lives throughout the state. Blackmon has a bachelor of science degree in forestry management, a master of science degree in plant and soil science and a master of science degree in administration.
Departmental Summary - Cooperative Extension
Cooperative Extension provides the citizens of DeKalb County with educational programs and information from the University of Georgia in the area of Horticulture, 4-H and Youth Development, and Family and Consumer Sciences.
Cooperative Extension educational programs have countywide significance:
In the community and schools through 4-H and Youth Development
In communities with efforts such as Master Gardeners and urban gardening
In homes through nutrition, child development, housing, and financial literacy
In nature by helping residents to protect the environment, and
In the food service industry through food handling and preparation information and training.