The mission of the DeKalb County Department of Watershed Management (DWM) is to protect the public health, safety and welfare through the provision of safe drinking water and quality wastewater treatment.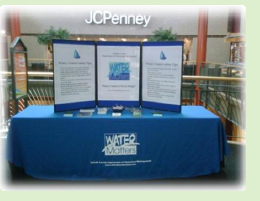 Our "Water Matters" public outreach campaign serves to educate citizens about our shared roles in water conservation, water quality and water supply systems as well as detail how the county is using technology to help provide the highest quality water and treatment facilities for all. Through community outreach programs, the DWM encourages citizens to increase and sustain the environmental quality of life in DeKalb County by improving their knowledge, awareness, and understanding of the department's services and programs. The message is very simple ... "Water Matters - Use It Wisely". The importance of water is highlighted through messages on topics such as water conservation, water pollution prevention and overall environmental education.
Participation in these outreach programs is free and offered to residents, community groups, and businesses in DeKalb County.
 

Photo Gallery - Treatment Plant Tours
    Girl Scouts tour Scott Candler Plant
    The Wilson Academy in Lithonia tours Scott Candler Plant
Contact Us