Recycling container options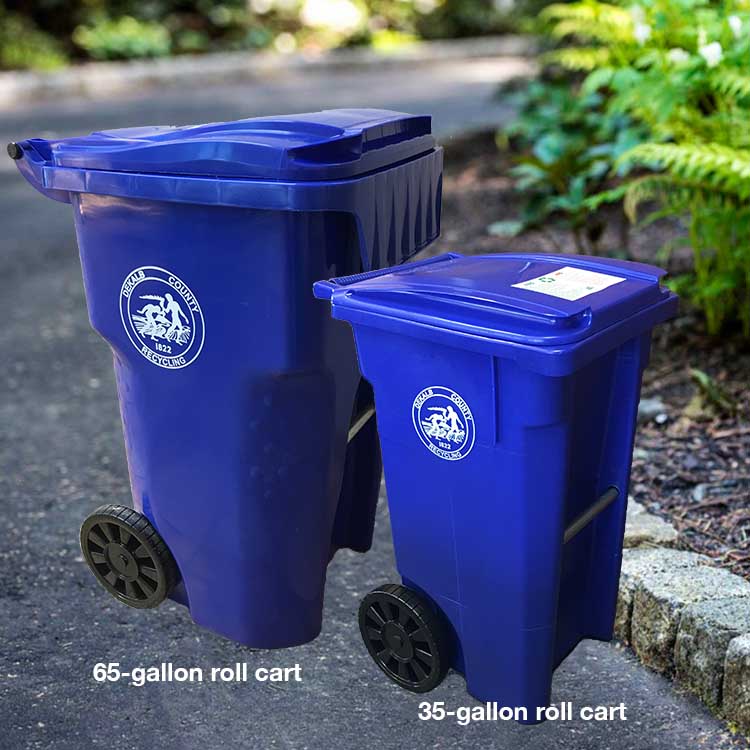 Request a standard complimentary 35-gallon roll cart OR
Request an upgrade to a 65-gallon roll cart for a one-time $15 prepaid fee
Options for processing recycling requests
To process new recycling subscriptions; 35-gallon roll cart requests; 65-gallon roll cart upgrade requests; or damaged/stolen roll cart requests, please choose one of the following:
Please click here to submit a request online, OR
Please click here to print and complete the Residential Curbside Single-Stream Recycling Form, and email it to sanitation@dekalbcountyga.gov, or mail it to the Sanitation Division's administrative office, 3720 Leroy Scott Drive, Decatur, GA 30032.
Prepaid fee payment options for 65-gallon roll cart upgrades – a one-time $15 prepaid fee
(Cart will be delivered once payment is verified)
Click here to make online payments for recycling roll cart upgrade requests.
Click here for prepaid fee payment options and instructions (including online instructions) for recycling roll cart upgrade requests.
Recycling program literature
Click here for a listing of acceptable and unacceptable recyclable items.
Click here for the residential single-stream recycling welcome letter.
Click here for information on recycling container options and pricing.
Click here for a joint recycling, fats, oils and grease (FOG) and anti-litter campaign flyer.
Click here for more information on the curbside single-stream recycling program's preparation and collection procedures.