Please click here for the landfill permit application. Decals will be issued once applications are processed and approved.
Seminole Road Landfill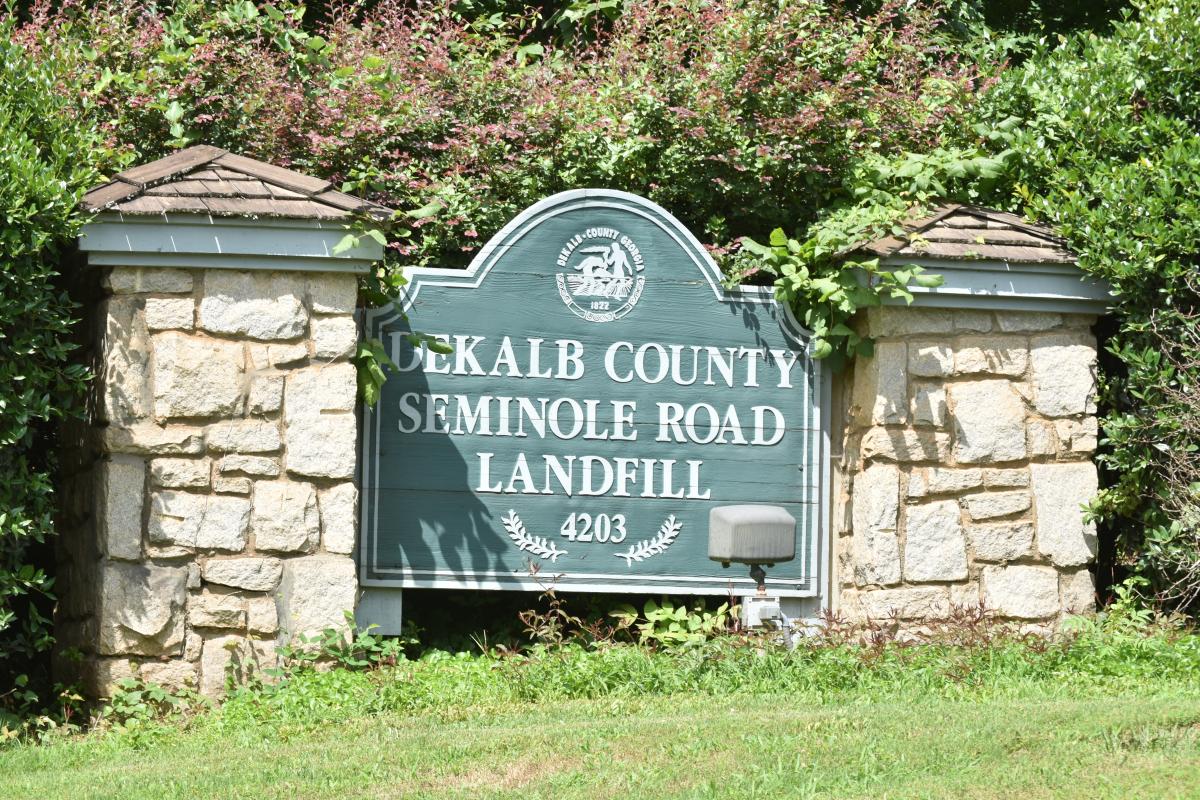 4203 Clevemont Road
Ellenwood, GA 30294
(404) 687-4040
Hours of operation
Monday through Friday: 8 a.m. – 5 p.m.
Saturday: 8 a.m. – 4 p.m.

The Seminole Road Landfill is closed on all DeKalb County government-observed holidays.

Frequently Asked Questions
How many landfills does DeKalb County own and operate?
One - The Seminole Road Landfill located at 4203 Clevemont Road, Ellenwood, GA 30294
Scale house: (404) 687-4040
Office: (404) 687-4016
Who may use the landfill?
Residents of DeKalb County or licensed DeKalb County businesses can use the Landfill. Municipal solid waste material generated in DeKalb County is also accepted for disposal.
What is needed to prove residency?
Vehicles with a DeKalb County vehicle registration sticker on the tag, a DeKalb County address on the driver's license of the vehicle operator, or a DeKalb County government invoice (such as water bill or tax assessment).
What type of waste does the landfill accept?
Normal home-generated refuse, such as non-combustible trash, discarded furniture or old appliances; yard trimmings, such as grass clippings, leaves, pine straw, limbs or tree trunks (must be in paper bags; no plastic bags will be accepted) or containerized loosely for disposal; building materials, such as lumber, shingles or carpet; and commercial waste, such as rocks, stumps or concrete products; a maximum of 10 passenger car tires from residents only; and small dead domestic animals.
Is there any type of waste that the landfill will not accept?
Yes. The Seminole Road Landfill will not accept any hazardous material (corrosive materials, explosive materials, inflammable materials or dangerous material of any kind); liquids (including old paint, used motor oil, etc.); lead-acid batteries; feces; or old tires generated through a commercial operation.
What costs are associated with disposal of items at the landfill?
Residents are able to dispose garbage, yard trimmings, furniture, personal vehicle tires, appliances and construction and demolition material at the landfill. Disposal costs are as follows:
Garbage, furniture, yard trimmings and construction and demolition material
Up to 999 lbs. - $16.50 Over 1,000 lbs. - prorated at $33 per ton
Animals over 100 lbs.
Securing and preparing the landfill burial site - $200
Additional fees based on the animal's weight:
Up to 999 lbs. - $16.50. Over 1,000 lbs. - prorated at $33 per ton
Appliances without Freon (stove, dishwasher, trash compactor, etc.) - $5 fee per appliance
Appliances with Freon (refrigerator, freezer, air conditioner, etc.) - $16.50 per appliance
Personal vehicle tires (no commercial vehicle tires are accepted; up to 10 tires are accepted) - $1 per tire
What are the driving directions to the landfill?
From I-285 E and exit 48 (Flat Shoals Parkway), proceed East (outside the perimeter) on Flat Shoals Parkway approximately 1.5 miles to the traffic light at the intersection of Waldrop Road, and turn right. Follow Waldrop Road to the traffic light at the intersection of River Road and turn left. Follow River Road approximately 1.5 miles and turn right on Clevemont Road. The Landfill is the first driveway on the right.
Can recyclable items be dropped off at the landfill?
Yes. There is a drop-off area with specially marked containers where residents can drop off recyclable materials.