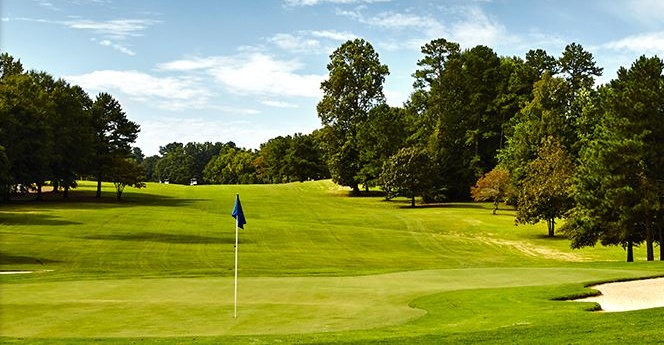 DeKalb County Parks and Recreation Department operates two public golf courses.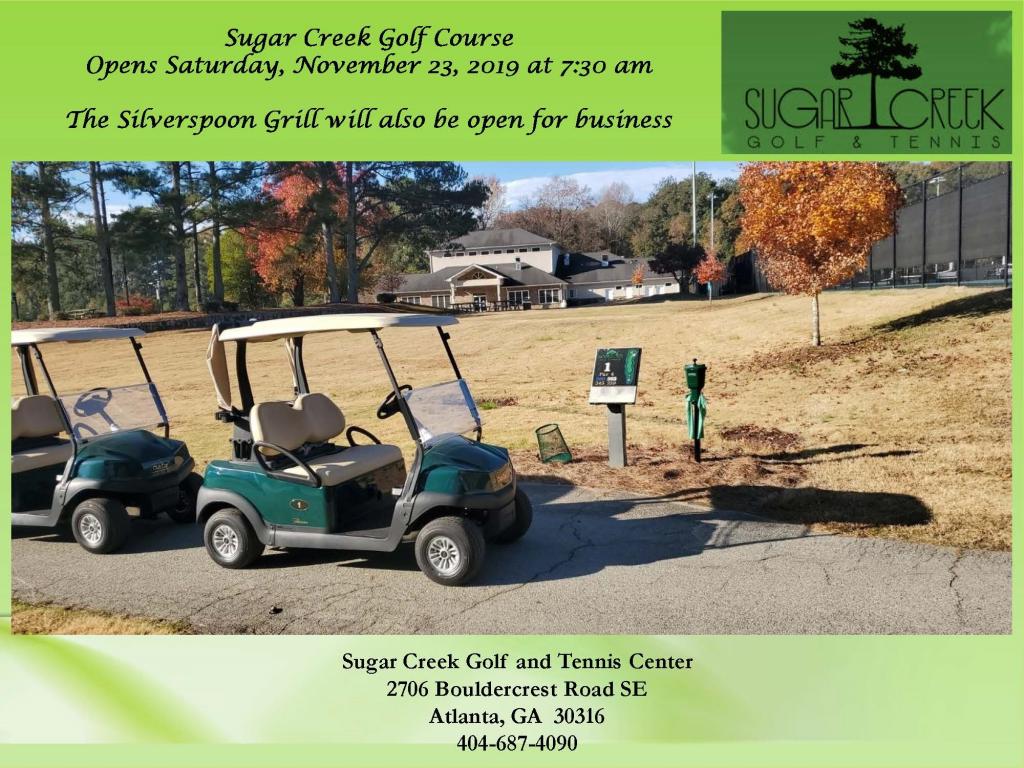 After being closed since October of 2017, Sugar Creek Golf Course and Club House is reopening for public play. Returning Golfers will find new putting greens along with other improvements to the golf course.Fees are very reasonable and reflect DeKalb County's interest in encouraging county golfers to come play the golf course again "for the first time".
Resident Fees Non-Resident Fees
Adults (18-59) Adults (18-59)
Weekday $26.00 Weekday $32.00
Weekend $32.00 Weekend $38.00
Juniors/Seniors Juniors/Seniors
Weekday $22.00 Weekday $28.00
Weekend $28.00 Weekend $34.00
All fees listed above include golf cart.
Do you enjoy walking? Ladies Day is Every Tuesday!
Take $11.00 dollars of any of the above fee. Resident $15.00 Non-Resident $17.00
Late Day Fees
Call 404-687-4081 for information on late afternoon golf fees.
NOTE:
There is a $2.00 Capital Improvement Fee added to each round of golf.
Funds generated from this fee will be used to support future improvements at the golf course.
Driving Range Now Open
The lighted driving range is now open from 7:30 am to 8:00 pm daily.
Hitting is only allowed from the mats at this time.
A bucket of balls is $3.00 for small and $7.00 for Large.
More Information?Contact Sugar Creek Golf Course at 404-687-4081
Mystery Valley Golf Course
Address: 6094 Shadow Rock Drive, Lithonia, GA 30058
Phone: (77)469-6913
https://www.mysteryvalley.com/
National Golf Foundation Report on Sugar Creek Golf Course

Each golf course:
Has Crenshaw Bentgrass greens
Is year-round to the public
Permits walking
Requires non-metal spikes
Provides private and group lessons
Is a full service practice facility, including a driving range, putting green and practice bunker
Has a full service clubhouse, including a snack bar, pro shop, lockers, showers, and club repair
Allows advance tee times
Has women's and men's golf associations
Has reasonable rates featuring senior/junior discounts, annual passes, etc.