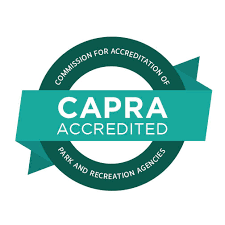 Park System Receives National Recognition    
DeKalb Recreation, Parks and Cultural Affairs joins the ranks of elite park and recreation agencies across the country by earning accreditation through the Commission for Accreditation of Park and Recreation Agencies (CAPRA) and the National Recreation and Park Association (NRPA). This distinguished accomplishment was awarded during the "2020 NRPA Annual Conference: A Virtual Experience." 
Click here to view release.
 
Why Accreditation?   
Nationwide, nearly 200 million people use local park and recreation services annually to enhance their physical and social well-being. They seek the highest quality recreation experiences. Agency self-assessment and peer review is an excellent process for evaluating the quality of the system, which delivers these services.
 
Who Administers Accreditation?  
The Accreditation Program for Park and Recreation Agencies is administered by the Commission for Accreditation of Park and Recreation Agencies, an independent body which is sanctioned by the National Recreation and Park Association (NRPA) and the American Academy for Park and Recreation Administration (AAPRA).
 
What are the benefits of becoming an accredited agency?  
 
Benefits for the public: 
Assurance and validation of well-administered services in accord with approved  professional practices
Potential for external financial support and savings to the public
External recognition of a quality governmental service
Holds an agency accountable to the public and ensures responsiveness to meet their needs
Improves customer and quality services

Benefits for the agency: 
Public and political recognition
Increased efficiency and evidence of accountability Answers the question, "How are we doing?" through extensive self evaluation
Identifies areas for improvement by comparing an agency against national standards of best practices
Enhances staff teamwork and pride by engaging all staff in the process
Creates an environment for regular reviews of operations, policies, and procedures and promotes continual improvement
Forces written documentation of policies and procedures
Formal Accreditation Application & Self-Assessment  
The agency undertakes a self-assessment study. This is the key phase because it engages  the entire agency -- employees, volunteers, citizen boards and committees -- in assessing  the agency's effectiveness and efficiency. The agency has 24 months from the date of the preliminary application to submit their completed self-assessment workbook. National accreditation requires  park and recreation agencies to respond to 151 standards representing elements of effective and  efficient park and recreation operations.
 
Accreditation Process    
Accreditation is based on an agency's compliance with the 151 standards for national accreditation.  To achieve accreditation, an agency must comply with all 37 Fundamental Standards and 103 of 114 Non-Fundamental Standards.  Upon  reaccreditation,108 Non-Fundamental Standards need to be met. 
   
For more information visit www.nrpa.org.