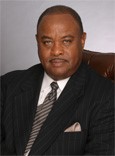 Porter Sanford, III was the third of six children born to the late Porter Sanford, Jr. and Lizzie Kate Simmons Sanford in Eatonton, Georgia on November 2, 1941.

Porter received his early education in the Putnam County School System and graduated from Butler Baker High School in 1960. He later matriculated at Clark College (now Clark Atlanta University) where he earned a Bachelor of Arts degree in Business Administration in 1965. Having an entrepreneurial spirit at an early age, he assumed the role of campus barber and operated a barber shop to defray the cost of his college education. During his college years he met and married his loving wife of 41 years, Bobbie Kennedy. They were blessed with two sons, Porter "Sandy" Sanford, IV and Brandon Kennedy Sanford and four grandchildren: Porter Sanford V, Jason, Christopher and Skyler.

While in college he was encouraged by his professor, William Robie to pursue a career in real estate. Upon completion of his studies he worked for a short time as a Sales Representative for the Metropolitan Life Insurance Company and later as a Sales Agent for Robie Real Estate and Roberts Real Estate Company. His entrepreneurial goal of self-employment was realized with the opening of Sanford Realty in 1965, the first minority-owned real estate company in DeKalb County. Porter grew this company from a small five agent office on Memorial Drive to the current office located on Snapfinger Woods Drive with 75 agents accounting for millions of dollars of real estate sales in the metropolitan Atlanta area. Porter was often mentioned as one of the individuals instrumental in starting the movement of African Americans in DeKalb County that led to it becoming the second most affluent African American County in the United States.

Even with the increasing responsibilities of operating his business, Porter had a burning desire to serve his community. He was a founding member of the Samuel Jones Boys Club, the First Southern Bank (where he sat on the Board of Directors and formerly chaired the Loan Committee) and the 100 Black Men of DeKalb. He also served on the DeKalb County Board of Commissioners from 1994-1999 when he resigned to run for CEO of DeKalb County. During his tenure at the super district 7 post, he was elected the first African-American presiding officer of the Commission.

His civic involvement was not limited to DeKalb County, but spanned the metropolitan Atlanta area. He was an active member of the following organizations: Board member of OIC (opportunities Industrialization Center), the DeKalb branch of NAACP, National Association of real Estate Brokers, Inc., Georgia Association of REALTORS, DeKalb Association of REALTORS, Empire Board of Realtists, Greater Atlanta Home Builders Association, Grady Hospital Board of Visitors, the Regional Leadership Institute, South DeKalb Business Association and the Spring Valley Civic Association. He was a member of Greenforest Baptist Church, a lifetime member and past president of the Atlanta Alumni chapter of Kappa Alpha Psi Fraternity, Inc., and was active in the Clark College Alumni Association, the Prince Hall Free Accepted Masons, and the Shriners.

While Porter was heavily involved in many civic and public service activities, his treasure was his family and his community.